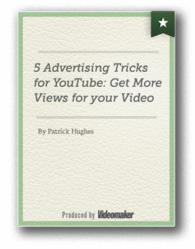 Chico, CA (PRWEB) October 08, 2012
Videomaker, the nation's premiere Internet source for tips and training to shoot better video, has released a free report 5 Advertising Tricks for YouTube: Get More Views for Your Video. This free guide can help anyone who's interested in building up an audience for their online video work.
YouTube is the most popular online video platform for video makers and video watchers. YouTube receives over 800 million unique users each month and has become the second largest search engine, right below Google itself. The video watching audience (3 billion hours each month) is growing and so are the number videos uploaded every hour, minute and second.
The potential for a good videographer is plain. Every director and videographer working today is trying to use YouTube to show off their work and drive traffic to their business. But not all of them will be successful. What makes the difference? Subject matter and content play a large role in the popularity of online videos, but too many video creators neglect the many tools and shortcuts YouTube offers to help promote their videos. Videomaker's latest free report 5 Advertising Tricks for YouTube: Get More Views for your Video will show the best practices for driving the maximum numbers of eyeballs to your online videos.
Visit 5 Advertising Tricks for YouTube: Get More Views for your Video to download a free report at http://www.videomaker.com/l/5_Advertising_Tricks_for_YouTube_Get_More_Views_for_your_Video