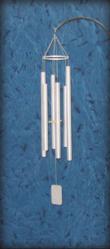 Eco Wind Chimes is aiming to publish the redesigned website on November 06, 2012. However, the website's present design is currently functional and customers are still able to make purchases.
Seattle, WA (PRWEB) October 11, 2012
Eco Wind Chimes is known for providing unique, wind instruments. The company has always been deeply committed to American social, economic, and environmental issues. Now, Eco Wind Chimes is announcing a venture designed to provide customers with a more personal and comfortable online shopping experience.
"Eco Wind Chimes' products are made and sourced in the U.S. and we have always provided soothing products to our customers," said Stephen Betzen, Owner. "But, we wanted to add more web-based features to ensure our customers have a stress-free buying experience. Our current website will still be functional during the redesign process. And, our new website will be accessible to customers just in time for the holiday shopping season."
The new website design incorporates modern style. EcoWindChimes.com is implementing Rapid Add to Cart System as well. This savvy type of website navigation allows customers to add products to their cart without ever leaving the page they are on, so they can continue shopping and check out as soon as they are ready.. "Our new design will load pages faster and allows customers to easily customize orders." The new design will also showcase an enhanced audio feature. "A sound file for each wind chime product will be made available on the same page. This is exciting because our customers can quickly add their favorite recordings directly to their carts," said Betzen. In addition, unbiased reviews of the Eco Wind Chime products will be published on the new website.
Eco Wind Chimes is aiming to publish the redesigned website on November 06, 2012. However, the website's present design is currently functional and customers are still able to make purchases. "71% of all U.S. adults shop online according to a recent study," continued Mr. Betzen. "The redesign will better complement our products and what our brand stands for."
Eco Wind Chimes was launched in 2005. The soothing products produced by Eco Wind Chimes match the company's dedication to quality workmanship, affordability, and purposeful retail. All Eco Wind Chime products are made, and sourced, in the USA. More information, and a media kit, can be found by clicking here: http://www.ecowindchimes.com/articles.asp?ID=1