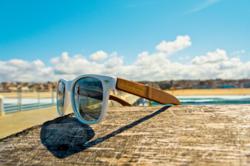 The project raised over 11% within the first few hours after launch
New York, NY (PRWEB) October 09, 2012
Woodwear Sunglasses, makers of Eco-Friendly eyewear handcrafted from sustainable bamboo have created a popular line of sunglasses. However, now they are having a difficult time keeping up with demand. After considering their options to help them raise the capital needed to scale production and to create a new RX line, they have decided to go with an unconventional approach to raise money via crowdfunding. For this purpose, Woodwear has created a project on the popular website Rock The Post where supporters can make a pledge and in return receive a pair of their sunglasses and other great rewards.
The project raised over 11% of its goal of $10,000 within the first few hours. "Being a small startup we do not have the resources we need to scale our production fast enough to meet the growing demand for our product. We considered traditional funding options, but we did not want to give up a portion of the company, or risk changing the company's direction and its independent bootstrapped spirit. When we discovered Rock The Post it was love at first sight, as we knew this was a way for us to stay true to our roots and to raise the money we needed to scale," said Jonas Musson, Founder of Woodwear Sunglasses.
Woodwear was created two years ago when Jonas saw a pair of wooden sunglasses made from exotic wood. "I thought to myself it was a great idea, but wouldn't it be even better if you could offer a similar product with an Eco-Friendly material," says Jonas. The idea eventually became a reality when Jonas discovered bamboo and its amazing ability to grow at an unbelievable rate, even after being harvested. Not only is bamboo sustainable, it is also very lightweight and very durable, making it the ultimate Eco-Friendly material. Using bamboo for their sunglasses makes them very durable and comfortable to wear as they are about half the weight as traditional sunglasses.
Fast forward two years and Woodwear is now offering six styles of sunglasses that are selling well to customers all over the world. Three styles are made from solid bamboo: The Hermosa, Playa and the Venice. There are three other styles, the Malibu that utilize a classic wayfarer style P/C frame with bamboo temples. The Malibus come in white, matte black and a classic tortoise frame. Each style is named after local beaches near Woodwear's hometown of Hermosa Beach, CA. Their solid bamboo sunglasses retail for $120 and the Malibus retail for $85. All of their sunglasses utilize 100% UVA/UVB Polarized lenses, stainless steel spring hinges and they come with a beautifully handcrafted bamboo storage box and micro-fiber bag.
How many times have you lost a pair of sunglasses in the water? Worry no more, because Woodwear's solid bamboo sunglasses float! This amazing feature has quickly made Woodwear's sunglasses popular with boaters, surfers and everyone that loves the water.
Woodwear is committed to helping others that are making a positive impact. For every purchase of their sunglasses a portion of the sale is given to organizations that are doing good. Every couple of months a new organization is selected to support with the help of Woodwear's customers.
About Woodwear Sunglasses
Woodwear Sunglasses create wearable artwork by making Eco-Friendly sunglasses out of sustainable bamboo. All of the sunglasses are handcrafted and use high quality materials like polarized lenses and stainless steel spring hinges. They support others that are doing good by giving a portion of each sale to organizations that are making a change.
About Rock The Post
Rock The Post is the grassroots crowdfunding platform for entrepreneurs and small businesses. The community invites entrepreneurs with unique projects to receive funding through a network of like-minded individuals. The platform fosters a fertile culture of innovators and a community of entrepreneurs who are making advancements that enhance life.