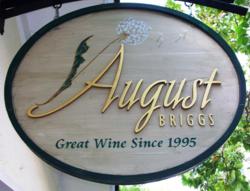 This special promotion only happens during our grape harvest in the fall
Calistoga, CA (PRWEB) October 06, 2012
In celebration of this year's harvest, August Briggs Winery is featuring a special wine sale during the month of October. At its wine tasting room in downtown Calistoga, customers will enjoy special pricing on August Briggs Winery's chardonnay and cabernet sauvignon wines.
"This special promotion only happens during our grape harvest in the fall," Matthew Gacso of August Briggs Winery said.
August Briggs Winery's chardonnay wines offer a taste of bright and citrus flavors, green apple, and ripe melon mixed with vanilla flavors and a long, fruity finish. On the other hand, the cabernet sauvignon has a bold and rich texture with ripe plum and cherry flavors that show touches of dried herbs and espresso.
"Our wines are produced at a state-of-the-art winemaking facility in Sebastopol, Calif. Using a gravity flow system, with optimal control in the winemaking process by utilizing small fermentation tanks, and a temperature-controlled cellar for barrel aging, this facility allows us to create the balanced, flavorful and harmonious wines we seek to create," Gacso said.
In addition to the special wine promotion, August Briggs Winery is offering a variety of wines in its wine tasting room during October, such as its chardonnay, pinot noir, zinfandel and cabernet sauvignon. The tasting room is open daily from 11 a.m. to 5 p.m., with the exception of Friday and Saturday, when it is open from 11 a.m. to 7 p.m.
For more information about the current promotion or any of August Briggs Winery's products and services, call 707-942-4912, view the winery on the Web at http://www.augustbriggswinery.com or visit 1307 Lincoln Ave. in Calistoga.
About August Briggs Winery
August Briggs Winery is an employee-owned winery located in Napa Valley. Working with local growers in Napa Valley and Sonoma, August Briggs Winery creates unique vintages of great tasting wines. As one of Napa Valley's best wineries, August Briggs Winery also operates a wine tasting room in downtown Calistoga.