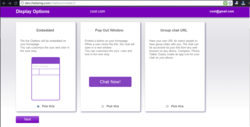 Cambridge, MA (PRWEB) October 06, 2012
Wordpress health bloggers can now scale their communication standards by utilizing the Chatwing chat box potential. The Chatwing Development Team has recently introduced the application to health bloggers, receiving mostly positive reviews. Bloggers have remarked that the Chatwing app is very easy to use and compatible to most blogs and websites. Additionally, the Chatwing application also uses the strength of social media.
Health bloggers usually discuss alternatives to processed foods. Some bloggers often add meditation techniques and a form of holistic diet. Visitors prefer a continuous flow of information regarding these topics, because health is an important niche. Chatwing's free shout box can help health bloggers and visitors engage in web communication efficiently. The application can also be installed in under a minute. To help bloggers achieve the right style of widget for their blogs, Chatwing offers a wide range of customization. Now, bloggers can choose the colors and sizes they like.
Because of the versatility of the Chatwing chatbox, Wordpress bloggers from other niches have started using it. As Chatwing's developers have introduced the shoutbox features to many communities, the influx of users received a significant growth. In an average day, the Chatwing chat app generates thousands of users. Chatwing's developers are planning to create more strategic approaches so that more people will recognize the Chatwing potential.
The Chatwing Development Team believes that blogging is one of the most important activities in the Internet today. This is because of the powerful information that can be delivered by blogs everyday. With the help of Chatwing's free chat widget, bloggers will gain a new edge in website communication. Moreover, they can make new friends in a Chatwing chatroom.
About Chatwing.com
Chatwing.com specializes in the new field of website chat. Over years, the Chatwing team has introduced live chat widget for hundreds and thousands of blogs. The Chatwing application bridges people from many parts of the world, creating global synergy through the Internet. The shout box can be installed in just seconds, and it can be used for varying purposes such as leisure and Internet marketing. It also allows a user to customize the size, color, and name of the widget. Chatwing is 100% free for everyone.