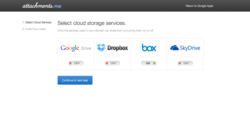 This is just the start of our offering for businesses
(PRWEB) October 08, 2012
Attachments.me announced today the initial release of a Google Apps edition of their product. The new edition brings enhanced security and easier deployment to businesses on Google Apps.
Along with the new edition, Attachments.me has partnered with Box to bring a secure package to companies on Google Apps. The partnership allows businesses to maintain the security they expect from Box while getting the Gmail integration provided by Attachments.me.
The Google Apps edition of Attachments.me allows companies to deploy to their entire domain. Businesses also get domain level control of which cloud solutions are available to their users, allowing them to prevent files from accidentally being put into personal cloud storage solutions.
"This is just the start of our offering for businesses." says Jesse Miller, CEO of Attachments.me, "With our tight integration into email, we have a unique view of files being shared in an organization. We are planning a whole suite of improvements around visibility, compliance and productivity, specifically for our business users."
The Google Apps edition of Attachments.me is available now, for free, from the Google Apps Marketplace.
About Attachments.me
Attachments.me develops software that makes the sharing of files better for both the sender and the receiver. The product is available as an extension for Google Chrome or Firefox and as an iPhone application. Founded in Toronto, Canada by Benjamin Coe and Jesse Miller in 2011, the company relocated to San Francisco after raising venture capital from Foundry Group. For more information, visit http://attachments.me