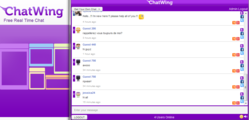 Boston, MA (PRWEB) October 07, 2012
Through event blogs, people will become aware of what is going on and what scenarios may change history. With the help of the Internet, events will reach thousands of people in just seconds. The Tumblg event blogging community is one of the most potential niches of today. To further empower this Tumblr niche, the Chatwing Development Team is ready to introduce a chat widget capable of global communication in just seconds. It also has unique features that can connect bloggers and visitors easily.
Chatwing's free chat box is capable of social media integration. This option allows people to log in with their social media accounts. The benefit of this option is deeper communication. Users can send out invitations to each other, and join Facebook and Twitter communities later on. The average Chatwing chat app can also accommodate up 1000 users in maximum. This is another factor that highlights the importance of the Chatwing shoutbox.
Chatwing chatbox also allows an easy installation mechanism. After registering the blog domain, the blogger can now go to the Chatwing dashboard and set up a shoutbox. He can select from Chatwing's three styles: shoutbox mode, pop-up window, and vanity URL. All styles can be used for various online purposes. Tumblr event bloggers can tinker with these styles to achieve the right fix. The customization option allows the user to set the color, title, and size of the widget. After completing everything, the user can now retrieve the HTML code and embed it to his blog.
Aside from Tumblr event blogging, Chatwing's free shout box is also geared for other niches as well. Most of these niches already have strong subscriber bases, while others are just making a dent in the blogosphere. Nevertheless, the Chatwing application can help any blog prosper amidst the competition.
About Chatwing.com
Chatwing.com specializes in the new field of website chat. Over years, the Chatwing team has introduced live chat widget for hundreds and thousands of blogs. The Chatwing application bridges people from many parts of the world, creating global synergy through the Internet. The shout box can be installed in just seconds, and it can be used for varying purposes such as leisure and Internet marketing. It also allows a user to customize the size, color, and name of the widget. Chatwing is 100% free for everyone.