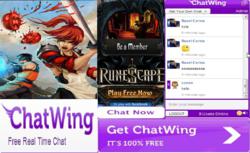 Tucson, AZ (PRWEB) October 07, 2012
The gaming sector is now facing a significant growth because of different game ideas, feedbacks, and trends. Now, the average gamer will have lots of gaming choices. This fact is based on the intensive research of the Chatwing Development Team. The company believes that gaming communities will continue to bloom in the following months. In line with this, Chatwing has offered support through its newly-released chat widget that is capable of enhanced communication. The Chatwing app has also been used in other online sectors.
Gaming communities are divided according to genres, pop culture games, game series, gaming interests, and even game spin-offs. A single gaming community alone will have thousands of topics to cover, making the Chatwing free chat box an in-demand driving force. The Chatwing application can be installed to blogs and websites. This micro-chatroom can allow up to 1000 users discuss the things they want. They can also focus on the topics emphasized by the host blog.
Using the Chatwing chatbox is easy. First, the visitor must log in using his Facebook or Twitter account. If he wants to remain anonymous, he can choose the Guest option. With this, he can pick up an avatar from Chatwing's collection. The avatars are based on pop culture references and will be enticing to the average gamer. After the login method, the user can start sending messages and chatting with other users.
Since Chatwing's free shout box operates on a freemium business model, users don't need to worry about subscription fees and service quality. The Chatwing chat app delivers the same level of service that a paid application would offer to people. The Chatwing team is also maintaining a Facebook page to keep users informed about changes, updates, and developments.
About Chatwing.com
Chatwing.com specializes in the new field of website chat. Over years, the Chatwing team has introduced live chat widget for hundreds and thousands of blogs. The Chatwing application bridges people from many parts of the world, creating global synergy through the Internet. The shout box can be installed in just seconds, and it can be used for varying purposes such as leisure and Internet marketing. It also allows a user to customize the size, color, and name of the widget. Chatwing is 100% free for everyone.