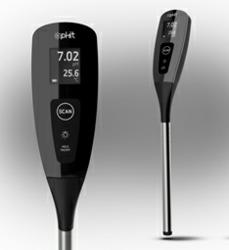 "Last month, Frost and Sullivan honored Senova Systems by presenting us its 2012 North American New Product Innovation Award for pH Sensors."
-CEO Lee Leonard
Sunnyvale, CA (PRWEB) October 09, 2012
Senova Systems announces the launch of its revolutionary pHit™ handheld pH scanner through an Early Access Program. This introductory program will allow interested customers the chance to own one of the very first pHit scanners. The pHit scanner is the first product based on a completely new solid-state pH sensor technology platform. Senova Systems' new pH measurement platform comprises novel chemistries coupled with advanced materials and proprietary electronics. The result is a calibration-free, non-glass, and wet-dry reversible pH meter. With this revolutionary new feature set, the pHit scanner represents the future of pH measurement. The company chose to introduce the Early Access Program at IBC Life Sciences' BioProcess International Conference & Exhibition (BPI) in Providence, RI, because it brings together thought leaders from academia and leading companies across the full spectrum of the bioprocessing industry.
"Last month, Frost and Sullivan honored Senova Systems by presenting us its 2012 North American New Product Innovation Award for pH Sensors," said CEO Lee Leonard. "It's fitting that we begin our product launch at BPI, where the pHit technology will be recognized as a truly disruptive technological breakthrough." Frost & Sullivan noted in its award report that, although pH is one of the most important and vital properties of nature, the glass electrodes currently being used to measure pH suffer from a multitude of shortcomings, including the requirement for frequent and complex user calibration and storage of pH probes in saturated electrolyte solutions between measurements. Fragility and susceptibility to fouling and signal drift were also cited in the report as shortcomings of glass probes.
Senova's Early Access Program is being offered to laboratory scientists and technicians in the United States who agree to evaluate the pHit scanner during a 30 day period. In return, participants in the program will receive a 50% discount on their purchase of the pHit scanner. Anyone interested in participating in the Early Access Program can apply now at the Senova Systems website.
About Senova Systems, Inc.
Senova Systems develops, manufactures and sells next-generation sensor systems based on coupling its patented chemistries with advanced materials and proprietary microelectronics.
Senova Systems' first focus is a revolutionary new pH sensor platform, which replaces current glass electrodes with solid-state, smart sensors that contain no glass and require no user calibration. This breakthrough offers significant operational and economic benefits in the life science, food and beverage, dairy, petrochemical, water and environmental sectors, and will ultimately enable novel advances in healthcare and other specialized applications unachievable with conventional pH electrodes.