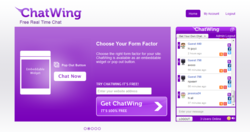 Cambridge, MA (PRWEB) October 07, 2012
Social blogging is now an important niche that is currently targeted by the Chatwing Development Team. Through social media blogs, people will become aware about the recent updates in their favorite social networking sites. Additionally, social blogs attract lots of people because of the entertainment level that they can offer. By launching a highly interactive chat widget, the Chatwing team has also empowered three key factors that may benefit social media blogs in the long run:
1) Group Mentality – This factor is all about the small and large groups that are being formed in various areas of the Internet. By using the Chatwing free chat box, the blogger may reach these groups in just few days of usage. The blogger can start with Facebook groups because the Chatwing application also has a social media integration feature.
2) News and Gossips – Word of mouth marketing is still effective nowadays, but it falls short compared to the speed of social media. Since the Chatwing chatbox is a micro-chatroom, information will travel fast, reaching bloggers and visitors simultaneously. News and gossips are crucial to any social blog. With a single news item, the social blogger can discuss different points and attract many interested visitors.
3) Prolonged Visibility – For any blog, online presence means everything. Without online presence, the blog will crumble before competition. The Chatwing shoutbox empowers this feature by enticing new users every now and then. Enticed users tend to return to the blog or website in a regular basis, enhancing its visibility. With Chatwing app's communication potential, good visibility can be achieved in just few days or weeks, depending on blog content and interaction rate.
These three key points were highlighted as the Chatwing team reached out to different online sectors. The Chatwing Development Team believes that these three features are essential, not just for social blogs, but for other websites as well. To further improve the performance of the Chatwing free shout box, its developers are planning new developments in the coming months.
About Chatwing.com
Chatwing.com specializes in the new field of website chat. Over years, the Chatwing team has introduced live chat widget for hundreds and thousands of blogs. The Chatwing application bridges people from many parts of the world, creating global synergy through the Internet. The shout box can be installed in just seconds, and it can be used for varying purposes such as leisure and Internet marketing. It also allows a user to customize the size, color, and name of the widget. Chatwing is 100% free for everyone.