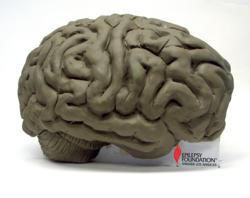 Los Angeles, CA (PRWEB) October 09, 2012
This Year's Walk to End Epilepsy will kick-off the first-ever Love Your Brain Bus Tour, taking cues from people affected by epilepsy and other neurological conditions about the importance of educating the public to protect and care for the brain.
The Walk to End Epilepsy, the premiere community event for epilepsy in the region, is set to take place at the Rose Bowl in Pasadena, CA on Sunday, October 28th and is expected to draw thousands of supporters. This year's event presents an exciting new twist: during the closing ceremony, the Epilepsy Foundation of Greater Los Angeles will launch the first-ever "Love Your Brain Now" Bus Tour, a creative mobile platform that will tour throughout California from October 28 through December 7th, educating the public about the importance of protecting, strengthening, and caring for the brain.
The "Love Your Brain Now" Bus Tour will take fun and community engagement on the road with brain safety tips, seizure first aid training, and a giant, inflatable walk-through brain, designed and donated by the creators of the massive mechanical replica of a prehistoric megaladon for Discovery Channel's Shark Week special "Sharkzilla". The Tour offers something for everyone and will engage crowds at major events, malls, schools, businesses and hospitals and via social media to promote brain safety, help people improve brain function, and end the burden of seizures.
"We're anticipating thousands to rally together in support of an often neglected cause -- epilepsy. The media headlines have recently been flooded with information about risks of traumatic brain injury in veterans and athletes, and continues to spread misinformation about seizures. This makes the Walk and Bus Tour very timely and necessary -- not only for the epilepsy community but also for the medical community and the general public – as we unite together in the fight to end epilepsy," explained Susan Pietsch-Escueta, the Executive Director of the Epilepsy Foundation of Greater Los Angeles.
"As an NFL team owner and a supporter of the League's donation of $30 million for traumatic brain injury research, I am glad to also support the Epilepsy Foundation of Greater Los Angeles and its unprecedented efforts to promote brain safety at the community level with their "Love Your Brain Now" Bus Tour," stated Steve Tisch, Co-Owner of the New York Giants and Oscar-winning Filmmaker who has produced films such as Risky Business, Forrest Gump, American History X, and the Pursuit of Happyness.
Sponsors for the 2012 Walk to End Epilepsy and "Love Your Brain Now" Bus Tour include Eisai Inc., Creative Inflatables, Shangri-La Construction, Dana Alliance for Brain Initiatives, Variety, UCLA Athletics, Steve Tisch Family Foundation, Wedbush Securities, Lundbeck, Cyberonics, UCB, GlaxoSmithKline, and WAT-AAH!, for Kids. These companies have demonstrated a social commitment to promoting brain safety, seizure freedom, and to increasing awareness about epilepsy, the most common serious brain disorder in the world. Despite the fact more people die from epilepsy and seizure-related causes than from breast cancer each year, epilepsy still remains greatly misunderstood and relatively under-funded.
ABOUT EPILEPSY
Without warning, seizures can happen to anyone at any age. When a person has two or more unprovoked seizures, they have epilepsy. Seizures do not all look the same and, according to the International League Against Epilepsy, there are currently more than 25 different recognized epilepsy syndromes affecting almost 3 million people in the U.S. and about 65 million people worldwide. Someone is diagnosed with epilepsy every four minutes and, this year alone, almost 200,000 people in our country will be diagnosed. To date, there are no known cures.
ABOUT THE EPILEPSY FOUNDATION OF GREATER LOS ANGELES
Established in 1957 as a 501(c)3 charitable organization, the Epilepsy Foundation of Greater Los Angeles is leading the fight to END EPILEPSY® and the burden of seizures. Our fundraising and community efforts support care, advocacy and education, today, while investing in research and hope for tomorrow. Visit us online at ENDEPILEPSY.org.