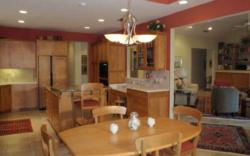 In our lifetimes, there may never be a better opportunity to buy an Amelia Island Plantation home.
AMELIA ISLAND PLANTATION, FL (PRWEB) October 12, 2012
There may have never been a better time to buy a house, and there has never been a better place to buy than Omni Amelia Island Plantation on northern Florida's Atlantic coast. For those who seek a waterview home designed for full-time family living, the residence at 4 Harrison Creek Road offers a brilliant solution.
This home is presented by Prudential Chaplin Williams, a name synonymous with expertise and professionalism when it comes to Amelia Island real estate and Fernandina Beach homes. Prudential Chaplin Williams realtors know the area and are familiar with local laws and lending practices. Buyers count on Chaplin Williams' integrity to ensure they are treated with the fairness and respect they deserve.
4 Harrison Creek Road offers a one-story floor plan on a lot of over half an acre, a rarity in North Florida coastal homes. The exterior's traditional styling, with its curving driveway and palm-studded lawn, comes as a relief to those tired of faddish and impractical designs. Inside, over 3300 square feet of space is intelligently planned to maximize charm and minimalize upkeep. Each of the four carpeted bedrooms is spacious, with ample closet space and thermopane windows allowing expansive views while saving energy. In the master suite, there is a separate tub and shower as well as a sliding door to the deck. Plantation shutters, decorative and practical, cover windows, an especially welcome touch in the front-facing room now used as an office. This home's split-bedroom design means the master bedroom remains a serene oasis.
The kitchen with its center island, the separate breakfast nook and the formal dining room emphasize this home's group-friendly qualities. Warm maple cabinetry and a barstool-height counter encourage lingering here. There is a formal living room as well as a family room with built-in bookshelves, while three full bathrooms guarantee comfort when entertaining.
The home at 4 Harrison Creek Road is in the well-regarded Cedar Point subdivision. This gated community features a pool for residents' exclusive use, along with bike paths, a clubhouse, a fitness facility and guard-maintained security. The house itself is located on a cul-de-sac, and the road is maintained privately.
One outstanding feature of this home, and one sure to draw admiration from guests, is the round, enclosed "treehouse" that provides sweeping views of the adjacent marsh and water. Currently used for entertainment, this space would also be ideal for writers, artists or musicians, who can draw on the vistas for inspiration while remaining connected to the household below.
Amelia Island waterfront homes provide amenities combined with natural beauty and an unparalleled location. At Omni Amelia Island Plantation, 4 Harrison Creek Road is ready to be loved and cherished by owners who appreciate its unique charm and thoughtful features.
About Chaplin Williams
Prudential Chaplin Williams Realty is a full-service real estate brokerage serving all of North East Florida and headquartered on Amelia Island. Chaplin Williams Rentals is a full-service professional property management company also located on Amelia Island, Florida. Both companies were established by owners, Dee Chaplin and Hugh Williams. For more information, visit Prudential Chaplin Williams Realty online at http://www.chaplinwilliams.com or call 904-261-9311. Call Chaplin Williams Rentals at 904-261-0604 or visit http://www.chaplinwilliamsrentals.com