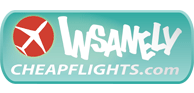 Milwaukee, Wisconsin (PRWEB) October 06, 2012
InsanelyCheapFlights.com is offering a discount on most airfare for flights from Milwaukee. Those looking for cheap flights from General Mitchell International Airport are eligible to receive up to $20 off their airfare when using the promotional code found on the website's homepage. The airfare sale is valid for travel booked through the end of the year, and on travel dates through next year. More details about the promotional code can be found on InsanelyCheapFlights.com.
"The holiday period is a popular time of the year for people to travel," explains the website's founder, Steve Oliverez. "Whether they're heading home see family or looking for a getaway, we can help them do it cheaper."
Flights to most destinations from Milwaukee qualify for the discounted airfare, including such popular flights as Milwaukee to Las Vegas, Milwaukee to Miami, Milwaukee to Los Angeles, and Milwaukee to Phoenix. Those looking to fly into Milwaukee will find that they also qualify for the flight booking discount on InsanelyCheapFlights.com. Travelers simply need to visit the site and conduct a search for their preferred flight, and then enter the promotional code to receive the discount. The site offers discount airfare to destinations worldwide and from most major airlines.
Complete airfare sale details can be found online at the company site. For more information or to view discount airfare opportunities, visit http://insanelycheapflights.com/.
About InsanelyCheapFlights.com
Founded in 2009, InsanelyCheapFlights.com provides discounted airfare to destinations around the country, as well as around the world. Users can visit the site and search for cheap flights for their vacations, business travel, and more. Along with cheap airfare, they also provide discounted hotel rooms and cheap car rentals.