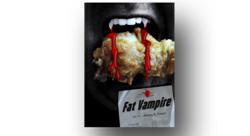 It was really cool to have the idea's genesis documented on our show, and to watch it become a real, finished work in so short a period of time.
Cincinnati, OH (PRWEB) October 06, 2012
When writers Johnny B. Truant, Sean Platt, and David Wright began discussing a random topic on their horror podcast, they had no idea that the topic would become a published book in less than a month – but that's exactly what happened.
On September 4th, the trio recorded the 6th episode of their popular "Better Off Undead" podcast, and meandered into a discussion about whether or not it was possible for vampires to be overweight. Four weeks later, October 2nd, Truant published his book Fat Vampire in Amazon's Kindle Marketplace.
"In less than a month, I turned a random, spur-of-the-moment idea into a book that was selling and creating income for me," said Truant. "That's the power of indie e-publishing. It used to take a year or more just for the publication process, but now writers make their own calls and control their own speed of production. There's never been a more exciting time for us."
The idea came during a discussion in episode 6 of Better Off Undead about whether the hosts would choose to become vampires if they had the opportunity.
"Dave is always joking about being overweight," said Truant, "so when the topic came up and Dave said he'd take the deal, we all started to wonder if he'd suddenly become thin and have ripped abs like movie vampires or if he'd stay the way he was. But it got really funny when we realized that the fact that he'd be a vampire would probably mean he'd always be overweight... that he'd forever be 'a fat vampire.'"
Truant says the conversation on the podcast went on until he said that he "kind of wanted to write a story about a fat vampire who can't get any satisfaction."
Truant started writing within a few days, had a rough draft eleven days later, and had rewritten, polished, and finished publishing the finished 38,000-word Fat Vampire novella in time to announce it four weeks later, when the group recorded episode 10 of Better Off Undead, titled "Horror Movies that Didn't Work and BOU's Fat Baby."
"It was really cool to have the idea's genesis documented on our show, and to watch it become a real, finished work in so short a period of time," said Platt. "The idea that writers can do this today is nothing short of amazing. And we're proud of our podcast's big, fat baby," he adds with a laugh.
At this point, Wright blurted, "Hey!" and then chuckled as well.
Wright, Platt, and Truant, who also collectively host the Self Publishing Podcast, report that the masterminding, the outrageous camaraderie, and the fun that occur on both of their podcasts combine with modern independent e-publishing to create a perfect storm for today's writers.
"It's never been a better time to be a creator," said Truant. "The doors are wide open to us, and the only gatekeepers are our readers.
Subscribe to the Better Off Undead Show today.