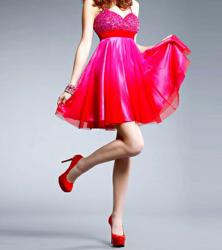 We are trying to offer customer more choices with cheap wedding dresses.
(PRWEB) October 06, 2012
On Oct.6, to develop the online wedding dresses market share, a leading wedding dress company, Ofweddingdress.net announced a Wedding Dresses Promotion with 30% Off for the USA Market.
The Promotion is valid for all products on the website of Ofweddingdress.net, and the prices there are the latest prices after 30% off. The USA customers can visit the website, and choose their favorite wedding dresses from a huge variety of choices. Besides the wedding dresses, there are also many wedding accessories, like Wedding Veils, Wedding Headpieces, Wedding Jewelry, Wedding Wraps, Wedding Gloves, and etc. Ofweddingdress.net provides One-Stop shopping for bridal fashion needs.
Freddie Wong, CEO of Ofweddingdress.net, said, "The USA market is the biggest market for our company, and we are happy to see faster growth of our business there. With all our growth and development, it just felt like the right time to give something back to our customers. Many females have a fairy tale notion when it comes to weddings, but we also have found that many customers are shopping for wedding dresses at very very high prices, and this is extremely unacceptable for most people. So, we are trying to offer customer more choices with cheap wedding dresses."
About Ofweddingdress.net
Ofweddingdress.net is one of the best online shops for buying wedding dresses at acceptable low prices, and its main products include cheap cocktail dresses, wedding dresses, bridesmaid dresses, wedding gowns, bridesmaid gowns, and other wedding accessories. Ofweddingdress.net strives to provide customers with the latest wedding dresses with the best prices and the largest variety of styles, and is devoted to helping couples design their own Wedding dresses without sacrificing the top quality materials and fast delivery.
For more information, please visit http://www.ofweddingdress.net/