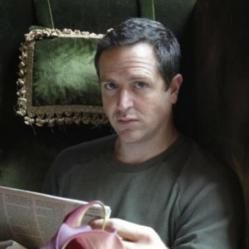 Howey's sensible advice contrasts markedly with a lot of get-rich-quick advice tossed about in the new so-called "Kindle gold rush.

Cincinnati, OH (PRWEB) October 07, 2012
Self-published author Hugh Howey – whose books earn six figures most months following the success of his Wool series – gave some rather pedestrian advice to self-published authors looking to replicate his success recently, when he appeared on episode 23 of the popular Self Publishing Podcast.
"Write a lot, and write a variety of stuff," said Howey. "It's the scattergun approach."
Howey's sensible advice contrasts markedly with a lot of get-rich-quick advice tossed about in the new so-called "Kindle gold rush."
Howey's Wool series – which filmmaker Ridley Scott's production company recently optioned the film rights to – began as one relatively short story (simply called Wool). Howey said on the Self Publishing Podcast that he'd already produced several works by then, and that Wool was the one he believed in the least. He believed in it so little, in fact, that he didn't bother to promote it. But it was there, because he writes a lot, giving himself many ways to cross the radars of readers.
Wool did take off, and how Howey is now a poster boy for self publishing. He writes full time now, to meet the demands of a ravenous fan base. But it never would have happened if he hadn't simply kept producing more and more work, across several genres... because you never know which one will take off.
Once Wool started to get serious attention, Howey knew he had to act fast to grab what he knew was a rather small window of opportunity.
"The only negative anyone way talking about was the length, saying 'Where's the rest of this?'" Howey said, adding that he chose to strike while the iron was hot in another form of "writing a ton."
"[Writing the sequels fast] was everything.... seizing that moment was the difference between having all that success and being able to write full time and all of the second-guessing I could have had later if I hadn't done it."
Howey said he dove right in, staying up until all hours working on follow-ups to Wool while the readers were hungry for more. This kind of response to reader demand didn't used to be possible, he added, saying that the ability of a writer today to respond to real-time feedback is unique to modern self publishing.
"It's like having thousands of beta readers," he said.
Johnny B. Truant, Sean Platt, and David Wright, the Self Publishing Podcast's hosts, say that Howey's experience validates their own self-publishing efforts – especially those of Wright and Platt, who produce a book every week and just signed two serial deals with Amazon's publishing arm for the serials Z-2134 and Monstrous.
Truant, who recently took an idea and turned it into a finished book in 29 days and plans to draft two each month, says that the "write a lot" credo has finally sunk in for him, too.
"Everyone we talk to on the Self Publishing Podcast says that the most important thing isn't tricks and tips and gaming the system, but just writing a lot of good stuff," he says. "So that's what I'm going to do."
Subscribe to the Self Publishing Podcast on iTunes today.