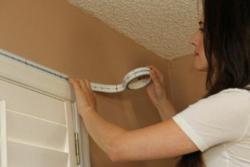 Toronto, Ontario (PRWEB) October 09, 2012
Measure-It! adhesive measuring tape is specifically designed to simplify home renovations and home decorating projects. It is a measuring tape that sticks to almost any surface, including irregular surfaces and can be removed without leaving a mark.
With Measure-It! applied to a surface, DIY'ers will have their hands free to mark, drill, cut, hang etc., and complete the project quickly and accurately. This new product is perfect for use in any home decorating project or can be used as a simple job aid for:

Hanging blinds or pictures
Painting
Room Layout
Drilling/cutting
Carpentry
Fabric measurement
Arts and crafts
Measure-It! can be used for almost any job where measurement is required. With no liner to remove, the tape peels off the roll like a normal household tape and can be put directly on almost any surface. The tape is low tack, which allows it to be repositioned several times if necessary. Measure-It! can be marked with a pen, pencil or marker, torn off where needed, and the product is recyclable.
"This product will definitely resonate with many DIY'ers, because it makes doing projects that much easier. Measure-It! tested particularly well with women who appreciate the ability to work hands free. It will allow them to tackle home decorating projects with confidence," says Rob Botten, President of Bronto Marketing Group Inc. who has exclusive marketing rights to Measure-It!
Measure-It! is manufactured in Canada and is distributed in Canadian hardware and paint retailers by Dynamic Paint Products of Mississauga. Bronto Marketing Group Inc. (BMG) strives to introduce high quality consumer products to new markets. Contact BMG at 1 855 349-8273 or visit measureittape.com/.