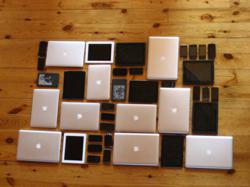 London, UK (PRWEB UK) 8 October 2012
An independent study asked: "Would you feel comfortable applying for guaranteed car finance via a mobile device such as an iPad, mobile phone etc?"

of the 14% of respondents who would apply for car finance this way, females are less likely to apply (9%) than males (16%);
more than a quarter (27%) of those who said "yes" earn over £40,000 a year
those in the age bands 18-29 and 30-39 were most likely to use a mobile device for a finance application – double the amount of those in the 40-49 age group;
100% of those in the 60+ age group said they would not use a mobile device to apply for finance;
57% of all those questioned said they felt that mobile devices aren't secure;
20% more of people in the 60+ age group were most concerned by security issues, compared to those in the age groups 18-29 and 30-39.
Louis Rix, Director at Carfinance247.co.uk who are specialists in helping people with bad credit, says: "It is surprising that with current technology being so advanced that people are still wary of applying for finance using a mobile device.
"Our customers can rest assured that however they access our service, whether from a PC or while on the go, their details will be very secure. We always put our customers' interests first and having a robust system is key to this."
*Independent research of 200 people carried out in October 2012 on behalf of Carfinance247.co.uk by Usurv.
Contact:
Louis Rix, Director of carfinance247.co.uk, on: 0845 129 5526 or email: louis(dot)rix(at)carfinance247(dot)co(dot)uk
Address: The Loading Bay
Albion Works
12-18 Pollard Street
Manchester
M4 7AJ
About us:
Founded in 2000, carfinance247.co.uk is a privately owned business with offices based in central Manchester. We provide vehicle financing solutions for all financial circumstances such as hire purchase, personal contract purchase, contract hire and other leasing options. No deposit is required and we can supply and deliver any make and model of your choice.