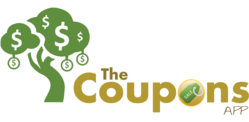 The Coupons App makes location-based coupon savings a breeze.
CHICAGO, IL (PRWEB) October 06, 2012
With the holiday season rapidly approaching, smartphone users everywhere will be looking for great deals near them to satisfy their holiday gift cravings. The app recently crested over the 10 million download mark, and has been around since 2008. The Coupons App's most notable achievement is that it is the #1 ranked coupon app available anywhere.
The Coupons App has platforms for the iPhone, iPad, Android phones, and other popular mobile platforms. With The Coupons App, users can find free meals at local restaurants, locate the cheapest gas in their proximity, and best of all, is accessible anywhere that has wireless coverage.
Businesses can also put The Coupons App to use to draw in more customers. Customers who use The Coupons App tend to be people who are "on the go." The staff who work on The Coupons App offer businesses direction and assistance with connecting customers to local businesses and increasing a business's market exposure—even on a budget. Businesses are billed quarterly, and their ads will receive 90 days of constant broadcast to anyone within a 20 mile radius. The service can be cancelled at any time with no questions asked. The Coupons App also offers area businesses with a targeted search result display when a customer searches through The Coupons App's network of local offers.
With The Coupons App in their corner, a business's ad is presented to interested consumers and is monitored in both a general display and within specific search results. This means that search results are quantifiable; a far cry from the hit-or-miss approach that comes with coupon inserts in the local paper or mass mailings. Ads purchased by business owners through The Coupons App remain static on the users screen and never move out of a customer's view.
The userbase for The Coupons App is increasing by the tens of thousands every day. Each day, over 1,300,000 Android phones are being activated, and each of those phones (provided that users download The Coupons App) has the potential to view coupons from local businesses.
About The Coupons App: The Coupons App is a revolutionary way for businesses to market themselves to a targeted, local audience. Ads purchased through The Coupons App are visible 24/7. The Coupons App encourages businesses to take advantage of the new medium of social media marketing by allowing users to recommend and share coupons with their friends and family through Facebook, Twitter, and email—all at no additional cost to the business owner. The Coupons App has made submitting an ad incredibly easy with a user-friendly interface on their homepage: http://www.thecouponsapp.com.