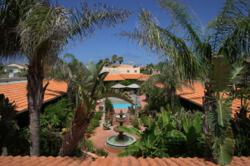 "The Origins organization is particularly committed to harmonizing advanced addiction medicine, evidence-based clinical practices and robust general medical care with the strong 12-Step culture we are known for." Ben Levenson, CEO
SOUTH PADRE ISLAND, TEXAS (PRWEB) October 06, 2012
Origins Recovery Centers, a nationally-recognized provider of integrated dual-diagnosis and addiction treatment, announced today that it has expanded its gender-separate men's and women's treatment programs to deliver medically-managed detoxification services on campus. With the addition of detox, Origins rounds out its comprehensive, self-contained continuum of care in which a patient can progress from acute withdrawal, through treatment, transitions and on to clinically-supervised sober living while maintaining access to their primary multi-disciplinary treatment team. The outstanding clinical continuity gained by directly managing what are normally disjointed stages of care delivered by unrelated providers significantly improves patient outcomes and makes Origins' model of treatment widely-admired in the marketplace and acclaimed by clinical evaluators.
"The Origins organization is particularly committed to harmonizing advanced addiction medicine, evidence-based clinical practices and robust general medical care with the strong 12-Step culture we are known for. Origins is one of very few addiction treatment programs in the country where patients enjoy daily personal wellness encounters with staff physicians and nurses. Internalizing detoxification is a natural progression in our development that increases continuity of patient care while also allowing clients to integrate into their milieus earlier, even while still in detox, improving outcomes" said Ben Levenson, Chief Executive Officer of the Company.
"Ultimately, our expanded licensure gives us total control over the quality of care our patients receive," said Ph.D. candidate Mandy Baker, Origins' Executive Clinical Director. "Addiction does not exist in a vacuum – patients bring medical and clinical co-morbidity that often includes mental illness and a host of non-psychiatric medical challenges like diabetes and hypertension. The data is clear - simultaneous and integrated treatment of all of these problems is vital to optimizing outcomes. Therefore, Origins' treatment team includes a diverse group of specialized physicians (Psychiatrist, Internal Medicine, Family Practice, consulting ObGyn and Dentist) led by Chief Medical Officer Alex Kudisch, MD, and an expert team of nurses led by Beverly Skloss, RN, MSN, Director of Nursing. Together with our psychologists, masters-level therapists, counselors, 12-steppers and other addiction professionals, Origins' multi-disciplinary treatment team is carefully designed to effectively assess, diagnose and treat cases featuring complex medical, clinical and psychological challenges."
"Some patients are so terrified of going through detoxification that it's a barrier to treatment. Our physician team, along with Origins' nursing and clinical staff, is sensitive to this dynamic and dedicated to safely and comfortably managing patients through the challenging phase of detoxification. Combining ultramodern medication protocols with old-fashioned compassion, we increase patient alignment with treatment and recovery while building valuable physician-patient rapport earlier in the treatment process," said Origins' CMO Alex Kudisch, MD.
With its customizable multi-staged continuum of care, that now includes detoxification, 45-90 day inpatient treatment, Transitions - a treatment step-down program, clinically-supervised sober living and MAP – an innovative 15-month recovery support and follow-up program, Origins has become a program of choice for relapsing individuals who have been to outpatient or primary 28-day treatment and experienced poor outcomes. Origins accepts most private insurance and offers creative financing options for those who qualify.
Doctors, therapists and other providers interested in receiving aftercare referrals may join Origins' confidential National Provider Network online at the Company's website or contact Discharge Planner Raul Cartagena at (888) U-GET-WELL.
About Origins Recovery Centers
Origins Recovery Centers is a licensed provider of longer-term, gender-separate dual diagnosis treatment and continuing care for adults. The Company's innovative programs comprise a comprehensive continuum of care for the treatment of addiction and co-occurring disorders. Origins' premier campuses are located in carefully selected locations around the United States, including South Padre Island, Texas and soon in Westchester County near New York City. Learn more about Origins' array of programs and take a virtual tour of the South Padre Island campus at http://www.originsrecovery.com.
Media Contact:
Mackenzie Mills
SpecOps Communications
New York City, NY
mackenzie(at)SpecOpsComm(dot)com
212-518-7221
# # #