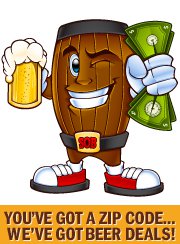 The cost of beer has been rising throughout the recession, leaving many Americans feeling 'pain at the pub.'
Houston, TX (PRWEB) October 26, 2012
It only takes American workers five minutes to earn enough money for a Miller Lite, according to The Economist. When one thinks of it that way, indulging in a cold, frothy reward after a hard day's work doesn't seem so bad. Yet, the cost of beer has been rising throughout the recession, leaving many Americans feeling "pain at the pub."
There are many reasons why beer prices have risen. For one, the cost of ingredients has gone up. There is not much a beer consumer can do about that. Attendees of the annual Oktoberfest party in Germany were fuming over the 4 percent increase in beer prices. Over the past decade, the price of a beer at Oktoberfest has skyrocketed an astounding 43 percent!
Brewing consultancy RMI Analytics says the cost of malting barley has jumped 25 percent since June 2012 alone. There is some concern that farmers will begin devoting more of their plantations to feed barley, which is cheaper to produce thanks to new subsidies aimed at replacing what has been lost in this year's drought.
The price of hops increased anywhere from 20 to 100 percent this year, depending on the type. The increase is linked to global shortage and poor output from Europe. Rabobank Group says the acreage dedicated for hops growing has halved over the past 12 years.
On top of that, The Beer Institute says that 45 percent of the cost of a beer is tax-related. State and federal taxes account for 36 cents of every dollar spent on beer, they say. This adds up to $44 billion in tax revenue – about $10.8 billion from consumers.
To combat the rising cost of beer, a group of friends in Texas launched SaveOnBrew.com, a website that lists retail beer prices nationwide. Over the years, they have posted more than 35 million beer prices and have over 9,000 beers in their database. Every day, new retailers, brands and deals are being added.
"By searching our database of between 250,000 and 300,000 live beer deals, you'll be able to find amazing sale prices within a 5 mile radius of your home," says Mark Davidson, founder of SaveOnBrew.com, the internet's only nationwide beer price database. "We know that it's much cheaper to drink at home with friends than out at a pub. So we recommend throwing house parties or pre-gaming at home and catching a cab."
For more information on beer economics, one can check out the 3-part series "Why Is My Beer So Darn Expensive?" at http://www.SaveOnBrew.com. Consumers may also enter their zip codes to see a listing of beer sales and prices in their area.
About SaveOnBrew.Com: Founded in 2010 to help thirsty beer drinkers across the United States find the lowest advertised prices for one of the world's most popular beverages.