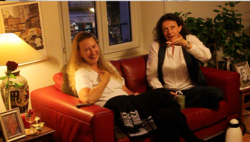 "If you take yourself too seriously you are seriously suffering." - Kosi
Ashland Oregon (PRWEB) October 08, 2012
The most noticeable thing about Kosi is her serious approach to the teaching and transmission that she received from her teacher—the world-renowned spiritual teacher Gangaji. But just mention the name Kosi to anyone who attended the satsangs she offered in Europe and a smile surely follows. She is simply serious and seriously funny and news of her teaching is spreading around the world like wildfire. Most people who attended her satsangs agree that satsang with Kosi will break your heart open, give you the opportunity to end your suffering, awaken you to the living happiness that you are, and simply make you laugh out loud.
Due to the success of Kosi's first European tour, Monique Moreau, who graciously offered her time and expertise as a translator for Kosi satsangs in Switzerland, has accepted Kosi's invitation to act as Regional Manager for Kosi's 2013 Europen Tour. With Monique managing events in Europe next year, Kosi is confident that her message of Freedom for the ordinary person will reach an even larger audience.
Kosi has recently accepted invitations to speak at the first Western Spiritual Teachers meeting in San Francisco on November 4th and the Occupy Your Higher Mind (OYHM) Conference in Manila, Philippines in December. She will also be offering satsangs in Byron Bay, Australia, Manila, Philippines, Kauai, Hawaii, San Francisco and has plans to return to Europe in 2013.
Kosi's teaching is a palpable transmission of Truth infused with the silent wisdom and grace of her beloved teacher Gangaji and Sri Bhagavan Ramana Maharshi. Her deep commitment to truth, love of life, her contagious laughter as well as her inspiring YouTube videos, open hearts and shines the Light of Awakening around the world.
Kosi is offering satsangs and retreats wherever she is invited around the world. Please let us know if you would like to host Kosi in your local area.
For more information please visit http://www.kosi.co or phone 541-708-3511