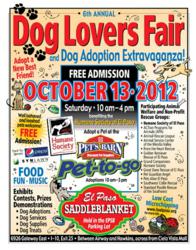 Bonnie has found a way to really bring a lot of these folks together and do the most good on behalf of the dogs.
El Paso, TX (PRWEB) October 09, 2012
Thousands will gather Saturday for the sixth annual Dog Lover's Fair and Dog Adoption Extravaganza at El Paso Saddleblanket. The event celebrates man's best friend with music, food, demonstrations, vendors, and contests. More than 60 businesses will offer products and services, including low-cost microchipping, spay and neuter referrals, grooming, treats, and supplies. Dogs are welcome, and will be available for adoption inside the Pet's Barn Pets-To-Go mobile adoption unit from 10 AM -3 PM.
The event is part of an ongoing commitment from El Paso Saddleblanket to assist local dog rescue organizations in securing loving homes for needy dogs. In 2009, Co-founder Bonnie Henson, a lifelong dog owner and animal advocate, began working with El Paso Humane Society and numerous other local dog rescue agencies to maximize the number of dog adoptions throughout El Paso. Applying more than forty years of business experience to the cause, Henson works as a neutral party with rescue organizations, donating space at El Paso Saddleblanket each Saturday for off-site dog adoptions. Henson also contributes advertising and promotional services to raise awareness about dog rescue and fostering opportunities. El Paso Saddleblanket adoption events have placed 734 dogs to date, inspiring other local businesses to host similar fundraising events.
"Sometimes it seems like the only thing two dog adoption agencies can agree on is that a third agency is wrong," said General Manager Luc Henson Wells, "Bonnie has found a way to really bring a lot of these folks together and do the most good on behalf of the dogs."
This year's Dog Lover's Fair and Adoption Extravaganza highlights the work of a dozen participating animal welfare and nonprofit rescue groups, including Humane Society of El Paso, ACTion Programs for Animals (APA), Animal Rescue League, Animal Service Center of the Mesilla Valley, From The Heart Rescue, Golden Retriever Rescue of El Paso, Grand Companions Humane Society, Great Dane Rescue of EL Paso, Pet Guardian Angel, Pets Alive El Paso, Southwest Collie Rescue, and Standard Poodle Rescue of the Southwest.
The Sixth Annual Dog Adoption Fair and Dog Adoption Extravaganza is Saturday Oct 13th, 2012 from 10 AM to 4 PM at El Paso Saddleblanket World Headquarters, 6926 Gateway East, El Paso, Texas, 79915. More information at ElPasoSaddleblanket.com and on the El Paso Saddleblanket Facebook page. Well-behaved and leashed pets are always welcome at El Paso Saddleblanket stores.
About El Paso Saddleblanket
El Paso Saddleblanket has been the world's largest importer, manufacturer, and wholesaler of quality items for the Southwestern lifestyle since 1970. Founded on Dusty and Bonnie Henson's vision of selling quality products at honest, wholesale, direct low prices, our two acre showroom in El Paso is home to over 200,000 hand woven rugs, blankets, and tapestries, leather goods and tack, Southwestern home décor, one-of-a-kind pottery and ceramics, turquoise and silver jewelry, handcrafted cowboy boots, and other Western apparel.
With a full family of brands, including Casa Zia Saddlery, Native Jewelry Trader, Montana Boots USA, Last Rodeo Caskets, Saddleblanket Ranch custom home designs and the Saddleblanket Home Collection Mexico Ranch Furniture, El Paso Saddleblanket creates quality products for every aspect of the Southwestern lifestyle. Direct low prices are available online at Saddleblanket.com with exclusive deals for wholesalers at WholesaleBuyItNow.com. Learn more about El Paso Saddleblanket and our wholesale opportunities at ElPasoSaddleblanket.com.