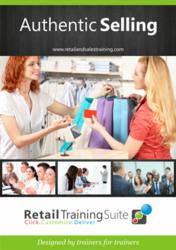 The danger in making training programs this prescriptive is that sales people focus more on the process they've been taught, and less on understanding and connecting with the customer.
(PRWEB) October 09, 2012
The Authentic Training Company, experts in retail and sales training, recently provided their take on Apples training along with tips on how to create the perfect sales package. One of the retail sales techniques Biddle claims Apple teaches its salespeople is the 'Feel, Felt, Found' approach for overcoming customer resistance. He provides an extract of the technique in use from the Genius Training Student Workbook: "Customer: This Mac is just too expensive. Genius: I can see how you'd feel this way. I felt the price was a little high, but I found its real value because of all the built-in software capabilities."
Another technique Biddle refers to is the use of neutral language to describe problems and quotes the following examples of words to avoid from Apple's student workbook – a computer 'stops responding', it doesn't 'crash'; there is a 'situation' as opposed to 'it has a 'bug'. The differences are subtle, but subconsciously significant. 'Bug' and 'crash' are emotive words, while 'stops responding' and 'situation' are less so. According to Biddle, Apple's training also focuses on understanding emotion 'portrayed through nonverbal gestures', such boredom, openness, suspicion and so on.
Authentic Training company founder Melissa Davies, who has read Biddle's synopsis of Apple's retail sales training says - "using empathy to overcome customer resistance through 'feel, felt and found' is nothing new and should be standard in all selling programs. The use of language to influence customer emotions and perceptions, and reading body language to identify buying signals are also well established selling techniques, made popular through the field of neuro-linguistic programming (NLP)."
According to Biddle's description of Apple's training program, where it does seem to differ from other mainstream selling programs is in its focus on relationship selling as opposed to hard selling. If a sales person can establish a relationship first, their focus is on educating and advising which is so much more effective than hard sales techniques. Apple employees are more technology consultants than sales people, and so customers respect them and feel more comfortable buying from them. They're getting advice, not a sales pitch.
On the downside, it does appear according to Biddle's synopsis, that the program is somewhat prescriptive with very clear rules for customer engagement - the 'do's and don'ts'. But selling is not a science, it's a human interaction. Company founder Melissa Davies says - "The danger in making training programs this prescriptive is that sales people focus more on the process they've been taught to follow, as opposed to understanding and connecting with the customer. They're too busy mentally ticking off the rules of selling in their head to form a real connection with the person in front of them. They're not tuning into the energy of the customer, they're not adapting to them – they're play acting to them. But top sellers operate at a higher level of emotional intelligence than this. Their approach is fluid, not prescriptive. Their focus is on making a connection, not following a process and in doing so they're authentic, and authentic selling is successful selling".
Overall, there doesn't appear to be anything 'secret', new or 'genius' in Apple's training, but certainly the focus on consultative selling, as opposed to hard-selling, is a modern approach that customers respond better to.
Authentic Training have launched a retail and sales training package that breaks away from the traditional, restrictive selling models of yesteryear.
Further information:
Authentic Training specializes in developing innovative retail and sales training packages that small business owners, managers and trainers can deliver themselves. Their vision is to provide a suite of tools that empower retail teams to achieve unprecedented levels of success and professionalism.
Melissa Davies, Company Founder
Authentic Training
http://www.retailandsalestraining.com