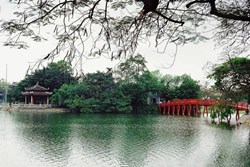 To have a great trip in Hanoi, tourists can book tours now with Vietsmile Travel. Then, they can have opportunities to get cheap tours and highly-qualified service
(PRWEB) October 07, 2012
Vietsmile Travel, the leading site providing tours in Vietnam for international tourists, has launched many special promotion programs and cheap tour packages. To attract customers, it ensures to bring customers with cheap and good services. As a matter of fact, Vietsmile Travel has received thousands of tourists every year. Most of the tourists show their satisfaction and leave their good response to its service quality. In the recent time, Vietsmile Travel mainly focuses on Tours in Hanoi and some other big cities in the country.
Due to the fact that autumn is the best time for tourists to visit Hanoi, Vietsmile offers a variety of attractive tours in this capital city. Owning the typical climate of Northern Vietnam, autumn in Hanoi lasting from August to October seems to be the most passion for so many artists with clear blue sky and gentle spells of breeze and it is also the high season for tourists. Coming to Hanoi, tourists will have chances to reach the crucial center of culture, politics, trade, and tourism all over the country. Experiencing thousands of years, Hanoi is the symbol of Vietnam's history. Therefore, the city is the combination between tradition and modernity. Hanoi owns a lot of unique beauties ranging from occupational villages, traditional cuisines, cultural festivals, historical places, and so on. Hanoi itself means "the city inside the river" since this city is surrounded by the beautiful Red River.
Having nearly 20 enchanting lakes, Hanoi has been called as "the city of lakes". Sword Lake, famous for its legend of the magic sword, now is the historical and cultural center of the capital. It is also the great destination for every tourists once coming to Hanoi. They usually reach there to walk, sit on long benches on the lake bank, see the lake and enjoy the fresh and peaceful air of a traditional capital.
Human settlement at this place dates back to the 3rd century B.C. Therefore, Hanoi is also known as the holy land of the unique culture. The Old Quarter, near Hoan Kiem Lake, has the original and ancient architecture. Each street has merchants specializing in a particular trade, such as silk, curtain, jewelry, pottery, etc. 2 kilometers from Sword Lake, Dong Xuan Night Market is the interesting destination of tourists at weekends. To many people, it is the shopping paradise as it has cheap, unique, and good products. The market runs along a 3- kilometer street selling clothes, souvenirs and foods. Another famous thing of Hanoi is water puppetry, which is mostly shown in traditional festivals.
Besides, Hanoi now attracts international tourists with a variety of bustling bars, cinemas, and clubs. It also has a lot of luxurious hotels and restaurants designed after European and Asian architecture. There are many other wonderful and interesting things in Hanoi awaiting visitors to discover.
To have a great trip in Hanoi, tourists can Book Tours Now with Vietsmile Travel. Then, they can have opportunities to get cheap tours and highly-qualified service.