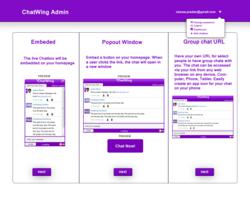 New York, NY (PRWEB) October 07, 2012
Mobile chatting is considered as one of the most notable activities in this modern period. Through mobile chatting, people can now gather basic information about many things they like. People can also engage in interesting discussions with their friends or loved ones. Chatwing has just launched the latest version of its website chat box. Now, the Chatwing chat application is geared to become mobile-friendly, flexible, and versatile.
The Chatwing chatbox is a multi-purpose chatroom that can be installed to blogs and websites. It empowers web connectivity in many possible ways, and also utilizes the strength of social media. With the Chatwing application, people can use their social media accounts to log in. Easy installation mechanism is also one of the strong points of the Chatwing shoutbox. In under a minute, the Chatwing app installation can be accomplished.
Mobile users who can access web pages can chat effectively with Chatwing's latest chat widget. They can now explore various topics related to the host blogs and websites that they want to visit. Bloggers, on the other hand, can use the Chatwing application to create a subscriber base and generate a strong online presence in just few days and weeks.
The Chatwing Development Team will continue introducing the free shout box to different online sectors. Now that the chat app has gone mobile, the Chatwing team expects a large influx of users in the coming months. In order to raise awareness about the Chatwing application and its importance, the dev team maintains a Facebook page and a series of blogs where visitors can gather and share information.
About Chatwing.com
Chatwing.com specializes in the new field of website chat. Over years, the Chatwing team has introduced live chat widget for hundreds and thousands of blogs. The Chatwing application bridges people from many parts of the world, creating global synergy through the Internet. The shout box can be installed in just seconds, and it can be used for varying purposes such as leisure and Internet marketing. It also allows a user to customize the size, color, and name of the widget. Chatwing is 100% free for everyone.