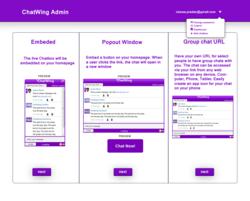 San Antonio, TX (PRWEB) October 08, 2012
Ucoz blogs are now getting a high rate of recognition in the Internet today. This fact is based on the observation done by the Chatwing Development Team. Recently, the company has launched an interactive chat widget that can help Ucoz bloggers gain the communication advantage they need. The Chatwing chat app utilizes social media potential, easy installation mechanism, and platform versatility. Moreover, users and visitors can engage in interesting discussions over time.
Like other blogging communities, there are thousands of niches in the Ucoz site. The strength of these niches relies on the activity of the blogs and visitors. To make a Ucoz niche blog globally potent, the Chatwing free shout box can provide a 'bridge' of communication. Depending on the niche blog, the Chatwing application can provide a continuous stream of visibility in the long run. The visibility increase depends on the content of the blog and its activity.
The Chatwing chat widget has been designed to help bloggers in the premise of web communication. Aside from the Ucoz sector, the Chatwing chat app has also been introduced in Wordpress, Livejournal, Typepad, and many more. Some bloggers have remarked that the Chatwing application is versatile enough to be used in online marketing and general tip sharing. With the communication leverage offered by the Chatwing app, such versatility is possible.
The Chatwing Development Team is always open for different changes in the face of blogosphere. In order to help bloggers at a better rate, the Chatwing chatbox has been subjected to a series of developments in the coming months. These developments will make the Chatwing platform run smoother and more efficient than before.
About Chatwing.com
Chatwing.com specializes in the new field of website chat. Over years, the Chatwing team has introduced live chat widget for hundreds and thousands of blogs. The Chatwing application bridges people from many parts of the world, creating global synergy through the Internet. The shout box can be installed in just seconds, and it can be used for varying purposes such as leisure and Internet marketing. It also allows a user to customize the size, color, and name of the widget. Chatwing is 100% free for everyone.