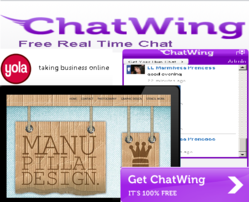 Tucson, AZ (PRWEB) October 08, 2012
Yola student bloggers can now use a professional chat widget from the Chatwing Development Team. The Chatwing app is loaded with useful features that can help the average student blogger gain online information. Additionally, due to Chatwing app's communication features, student bloggers can find references and tips through site visitors. The Chatwing application also utilizes social media for an even greater advantage.
Student bloggers typically use websites to aid their research and gather more online materials for their projects. Some of these student bloggers also maintain personal blogs so they can share common events that have roused their interest. The Chatwing free chat box improves this communication experience by providing an easy-to-use website chatroom that can reach many people simultaneously. In a single Chatwing chatroom, up to 1000 people can chat simultaneously.
Installing the Chatwing free shout box is also a time-saver method. Since there are no complicated commands involved, the average installation time can be finished in under a minute. It all depends on the preferences of the user, especially in the customization phase. The user can modify the color, size, and title of the widget so that it will fit the theme of his blog or website. Unlimited chat box creation is also one of the important features of the Chatwing chat app, and this is useful for bloggers who are maintaining lots of blogs.
The Chatwing Development Team is always ready to help student bloggers in many ways possible. Chatwing's developers believe that students can get the most information with the help of the Internet. Since online information travels through blogs, websites, and social media, the Chatwing team will introduce their chatbox in various online sectors. With this, many people can utilize the simple but professional communication solution offered by Chatwing.
About Chatwing.com
Chatwing.com specializes in the new field of website chat. Over years, the Chatwing team has introduced live chat widget for hundreds and thousands of blogs. The Chatwing application bridges people from many parts of the world, creating global synergy through the Internet. The shout box can be installed in just seconds, and it can be used for varying purposes such as leisure and Internet marketing. It also allows a user to customize the size, color, and name of the widget. Chatwing is 100% free for everyone.