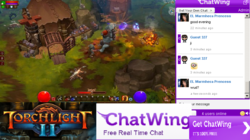 New York, NY (PRWEB) October 08, 2012
Torchlight 2, the recent game masterpiece of Runic Games, is now continuously gathering more fans across the Internet. This is due to the game's hack-and-slash style similar to Diablo 3, and the wide assortments of game loot. Some gamers have mentioned that Torchlight 2 can surpass other known gaming titles. Chatwing, a development company, has recognized the strength of Torchlight 2 as a niche. With this, the Chatwing team has launched a simple chat widget that can be used by Torchlight 2 fans when discussing various game topics.
Torchlight 2 fans can rely on Chatwing's free chat box when it comes to conversations because of the versatility that it can offer. A single Chatwing chatroom allows 1000 people to talk about the topics they like. They are also free to share important links and also use their social media accounts as login options. Additionally, they can send friend invitations to others who have logged in with their Facebook and Twitter accounts. Torchlight 2 fans can use this option to widen their social networks and gain new friends that they can invite for online co-op games.
Chatwing's expansion to gaming communities is not a new thing. Browser-based gamers have relied on the communication potential of the Chatwing chatbox. Through the Chatwing chat app, these gamers were able to exchange tips, walkthroughs, and gaming secrets. As for Torchlight 2 players, they can share their map and dungeon experiences, as well as variations in gem transmutations. Character builds are also essential topics.
The developers of Chatwing's free chatbox are always dedicated to change. Aside from gaming communities, the Chatwing team is willing to expand in other online sectors with active niches. Since Chatwing app deals with web communication, it can also be used for a myriad of purposes. Chatwing's advancement to gaming sector is only the first step in its strategic expansion.
About Chatwing.com
Chatwing.com specializes in the new field of website chat. Over years, the Chatwing team has introduced live chat widget for hundreds and thousands of blogs. The Chatwing application bridges people from many parts of the world, creating global synergy through the Internet. The shout box can be installed in just seconds, and it can be used for varying purposes such as leisure and Internet marketing. It also allows a user to customize the size, color, and name of the widget. Chatwing is 100% free for everyone.