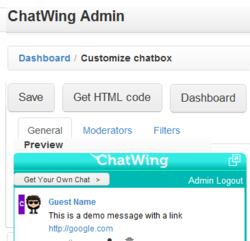 San Antonio, TX (PRWEB) October 14, 2012
Wall.fm, a renowned social networking site creator, has been lately filled with sports fans from all around the world. Based on this fact, the Chatwing Development Team has introduced a website chat widget that can help a Wall.fm site gather more visitors and subscribers. The Chatwing shoutbox is capable of global communication in just seconds and it is also known for versatility.
The Chatwing chatbox is known for its simplicity and uniqueness amidst competition. This is because of the application's outlying factors such as social media integration, easy installation mechanism, and high customization rate. Due to such versatility, the Chatwing application has been used in different purposes, such as online marketing and target market enhancement. Blog marketers are also known to use the Chatwing application in enhancing their blogs' visibility.
In Chatwing's free chat box, Wall.fm sports fans can freely discuss their favorite topics and interests. The Chatwing team has noted that these fans usually talk about trendy sports such as Basketball, Soccer, Racing, and many more. Some of these sports fans also talk about different sports merchandise and where to buy them.
Wall.fm has helped people connect through different and interesting niches. Chatwing's free shout box can connect all of these niches and introduce them to thousands of people. Like any micro-chatroom, the Chatwing app will undergo several platform upgrades to ensure its efficiency in the coming months.
About Chatwing.com
Chatwing.com specializes in the new field of website chat. Over years, the Chatwing team has introduced live chat widget for hundreds and thousands of blogs. The Chatwing application bridges people from many parts of the world, creating global synergy through the Internet. The shout box can be installed in just seconds, and it can be used for varying purposes such as leisure and Internet marketing. It also allows a user to customize the size, color, and name of the widget. Chatwing is 100% free for everyone.