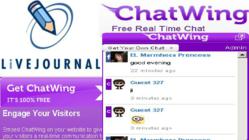 San Antonio, TX (PRWEB) October 09, 2012
Chatwing Development Team has just introduced its latest chat widget to Livejournal bloggers. In this latest version, the Chatwing app allows social media sharing, unlimited shoutbox creation, high-end customization, and ease of access. Through the Chatwing app, Livejournal users will be able to engage their visitors at a better rate, and they can even expand their social networks. Chatwing shoutbox is compatible to any blog.
Livejournal is full of niches that can be explored by the average blogger. These niches, in turn, are full of discussions and thousands of blog entries to read. Chatwing's free chat box can help any Livejournal blogger by turning the blog into an active online lounge where visitors can gather and talk about various stuff. Based on Chatwing's observation, the discussions depend on the host blog and trendy ideas suggested by visitors.
Social media integration is also a long-standing and useful feature of the Chatwing chatbox. With this option, users can log in with their respective social media accounts. Now, visitors can send out invitations to each other. The blogger can also use this option to interact with his visitors wholly. Now, blogger and visitor will have an uninterrupted form of communication that is crucial for blogging presence.
Aside from introducing the Chatwing free shout box to blogging communities, the Chatwing team is also conducting surveys with other bloggers. In this way, the needs and suggestions of the bloggers will be analyzed. These factors will be the basis of the upcoming advancements in the Chatwing shoutbox.
About Chatwing.com
Chatwing.com specializes in the new field of website chat. Over years, the Chatwing team has introduced live chat widget for hundreds and thousands of blogs. The Chatwing application bridges people from many parts of the world, creating global synergy through the Internet. The shout box can be installed in just seconds, and it can be used for varying purposes such as leisure and Internet marketing. It also allows a user to customize the size, color, and name of the widget. Chatwing is 100% free for everyone.