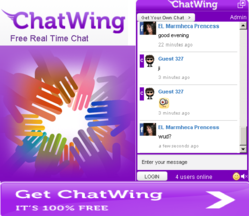 San Antonio, TX (PRWEB) October 10, 2012
Forge of Empires (FOE), one of the leading strategy browser-based games of today, is continuously making a buzz in the Wordpress community. The browser-based game has attracted thousands of users daily, and some gamers have already started making their own gaming blogs. To join the gaming buzz, the Chatwing Development Team has introduced a [chat box for the fans of FOE franchise in Wordpress.
Chatwing's free chat box can be used in many different purposes. One of these main purposes is information delivery. Through the Chatwing chat tool, visitors can share their thoughts and ideas about certain topics. Forge of Empires players can use the Chatwing shoutbox to share tips and strategies on how to play the game efficiently. Additionally, since Forge of Empires is an empire management game, it is crucial to make more friends and alliances. Players can visit the Chatwing chatbox to find more friends that can make conquests easier.
Installing the Chatwing free shout box is a relatively easy task. First, the user must register his blog or website's domain name. Next, he will be prompted to edit the appearance of his widget. He can change the color, size, and widget title. Once the editing phase is completed, the user can retrieve the HTML code and embed it to his blog.
The Chatwing team is always intent on introducing new developments to their free chat app. With this dedication, people can now experience a new form of online communication that can be done in simple and easy steps. To keep their users well-informed, the Chatwing team also maintains a Facebook page about the free chat tool.
About Chatwing.com
Chatwing.com specializes in the new field of website chat. Over years, the Chatwing team has introduced live chat widget for hundreds and thousands of blogs. The Chatwing application bridges people from many parts of the world, creating global synergy through the Internet. The shout box can be installed in just seconds, and it can be used for varying purposes such as leisure and Internet marketing. It also allows a user to customize the size, color, and name of the widget. Chatwing is 100% free for everyone.