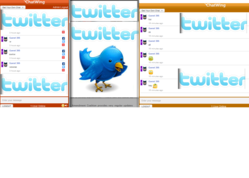 Dallas, TX (PRWEB) October 10, 2012
Twitter online marketing has entered a new paradigm because of the upcoming trends in almost all niches. With this fact, Twitter online marketers have been searching for new and cheaper alternatives for their campaigns. The Chatwing Development Team is ready to give Twitter online marketers a hand. Recently, the Chatwing team has launched an official chat widget loaded with useful global communication features. The Chatwing application can also be used by bloggers from different online sectors.
Twitter online marketers accomplish their campaigns by posting tweets that often trigger people's interests. Additionally, 'question' tweets are essential because they allow people to become more creative while exploring the opportunity presented. The Chatwing chatbox is Twitter-centric, and online marketers can use it to find new people and widen their target markets. In a Chatwing chatroom, up to 1000 users can hold conversations, emphasizing a high rate of connectivity.
For those who want to use Chatwing for their websites, the installation process can be finished easily. After blog registration, the user can now proceed to the Chatwing dashboard. There, he can modify the appearance of the free shout box. The use can adjust sliders to set the color and size of the widget. After completing the customization phase, the user can now retrieve the HTML code and embed it to his blog or website. The widget will go live right away.
The Chatwing Development Team is positive that things will go better for Twitter online marketers. To further help these people, the Chatwing team is mapping out plans for a series of platform upgrades. These upgrades will allow the free chat box to run at a more efficient rate and can handle large influx of users.
About Chatwing.com
Chatwing.com specializes in the new field of website chat. Over years, the Chatwing team has introduced live chat widget for hundreds and thousands of blogs. The Chatwing application bridges people from many parts of the world, creating global synergy through the Internet. The shout box can be installed in just seconds, and it can be used for varying purposes such as leisure and Internet marketing. It also allows a user to customize the size, color, and name of the widget. Chatwing is 100% free for everyone.