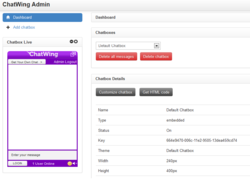 (PRWEB) October 10, 2012
Trends in Twitter are becoming common discussions in many websites today. These trends, ranging from Hollywood to small home businesses, are essential for the relay of information in various online communities. Seeing the importance of Twitter trends, the Chatwing team has readily launched a global chat widget capable of global connectivity in just seconds. The Chatwing shoutbox is also blogger-friendly, and each chatroom can thoroughly maximize discussions.
Chatwing's free chat box can also be used to explore the trends in Twitter. In an observation done by the Chatwing team, trends come at a moderate pace and they become more potent as people discuss them frequently. Trend seekers can hang out in the Chatwing chatroom and wait for visitors that might bring in new trends. Moreover, a visitor can spark a conversation about a certain trend. In a Chatwing chatroom, online possibilities seem endless.
Trend setters, on the other hand, usually are maintaining blogs and websites to discuss the trends they are offering. This is common to social media entrepreneurs and fashion designers. Novelty item creators are also using blogs to showcase their creations. Chatwing's versatile chatbox is also built to improve the visibility of a blog or website. By providing a stream of communication, visitors can be enticed and they will visit the website often.
Twitter trends will continue to grow based on the patterns observed by the Chatwing Development Team. In the coming months, the Chatwing team is planning to create more developments that can increase the speed and stability of their free chatbox. With such upgrades, more Twitter trend seekers can benefit from the Chatwing application.
About Chatwing.com
Chatwing.com specializes in the new field of website chat. Over years, the Chatwing team has introduced live chat widget for hundreds and thousands of blogs. The Chatwing application bridges people from many parts of the world, creating global synergy through the Internet. The shout box can be installed in just seconds, and it can be used for varying purposes such as leisure and Internet marketing. It also allows a user to customize the size, color, and name of the widget. Chatwing is 100% free for everyone.