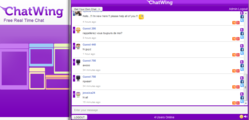 Houston, TX (PRWEB) October 10, 2012
Based on many commentaries, Facebook chatting is still one of the best activities around. Through Facebook chat, relationships can be formed, as well as business partnerships. Chatwing, a company known for making active widgets, has recently introduced a global chat widget that can be used as Facebook chat alternative. The Chatwing tool is interactive, and it is built for different online purposes.
The Chatwing free shout box is a rich source of information that can benefit a lot of Facebook users. Through this micro-chatroom, users can now discuss various Facebook trends and activities. Lately, the Chatwing team has noted that many Facebook users are discussing about the farming thrill brought by Farmville 2. The game has attracted thousands of users around the world. By utilizing the Chatwing chat app, the user can gain the proper information he needs.
Through Chatwing app's social media integration feature, users can now use their Facebook accounts as login options. With this, a user will have the opportunity to expand his social network in just few days. He can also send invitations to other users who have logged in with their Facebook accounts. This simply makes the Chatwing chatbox a highly reliable application that can also help professional social media marketers and explorers.
Facebook will still remain as one of the most important topics today because of its significant growth. The Chatwing Development Team will continue introducing the free chat box to Facebook users so that web communication can be greatly emphasized. To keep users informed, the Chatwing team is maintaining a Facebook page filled with timely content.
About Chatwing.com
Chatwing.com specializes in the new field of website chat. Over years, the Chatwing team has introduced live chat widget for hundreds and thousands of blogs. The Chatwing application bridges people from many parts of the world, creating global synergy through the Internet. The shout box can be installed in just seconds, and it can be used for varying purposes such as leisure and Internet marketing. It also allows a user to customize the size, color, and name of the widget. Chatwing is 100% free for everyone.