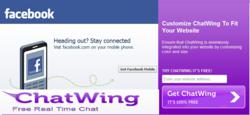 Dallas, TX (PRWEB) October 11, 2012
Chatwing Development has just introduced a reliable and efficient global chat box that can be used by Facebook marketers. The Chatwing chat app is known for its versatility in hundreds of online communities and it can also be used by forum makers, as well as podcast blog creators. Chatwing app also empowers social media sharing, wherein users can share interesting discussions they had in the chatroom.
Chatwing's free chat box allows users to log in with their Facebook accounts. This factor alone can be useful for Facebook marketers. The Chatwing team has recently observed that most Facebook marketers often have respective blogs or websites. These marketers can utilize the communication potential of the Chatwing widget by embedding it. Once embedded, the Chatwing chatroom can provide a high rate of online presence to any website.
Chatwing's developers have long studied the schematics of chat widgets and other website applications. There are thousands of applications that are being created on a daily basis, yet only few of them are useful. Since Chatwing's free shoutbox is in the communication side, it has been proven useful for anyone. The Chatwing team has also undergone 'speed tweaks' in the chat platform, ensuring its stability and efficiency in the long run.
The Chatwing chat widget has a long way to go before it can finally help all Facebook marketers. Nevertheless, the Chatwing team has already made its first steps. Through these steps, people will be able to have a new global chat experience that can be achieved easily. Aside from Facebook, the team is looking forward to expand in other communities as well.
About Chatwing.com
Chatwing.com specializes in the new field of website chat. Over years, the Chatwing team has introduced live chat widget for hundreds and thousands of blogs. The Chatwing application bridges people from many parts of the world, creating global synergy through the Internet. The shout box can be installed in just seconds, and it can be used for varying purposes such as leisure and Internet marketing. It also allows a user to customize the size, color, and name of the widget. Chatwing is 100% free for everyone.