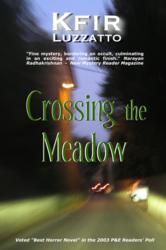 The competition is meant...to pay a tribute to authors who have made a special effort to distance their work from that of others.
(PRWEB) October 09, 2012
The Basis for the Competition
Kfir Luzzatto's novel, Crossing the Meadow, was published by Echelon Press in 2003 and was voted "Best Horror Novel" in the Preditors and Editors Readers' Poll of that year. Years later Kfir happened to read a collection of short stories by a well known author and was intrigued by the striking similarity between his novel and the opening short story in that collection. Kfir identified at least 13 elements in both works, which are responsible for the overall uncanny feeling of similarity between the two.
What Do Entrants Need to Do to Win the Competition?
Entrants must read Kfir Luzzatto's novel (which they will be able to download for free in popular e-book formats) and identify a collection of short stories, published any time after December 31, 2007, and its opening short story that is similar in numerous respects to the novel. The detailed rules of the Competition are set forth in the Official Rules.
Is That All?
Well, no. To win the entrant must possess the ability to analyze literary texts and must be quicker than someone else. The prize will go to the entrant who submits the entry that, in the judge's opinion, best compares the works, according to the criteria set forth in the Official Rules. However, if two or more entries are identically ranked at the top, the entry submitted first will win.
To learn more and to register for the competition see the Official Rules or the YouTube Registration Tutorial.
The deadline for registering to enter is December 31, 2012 at 11:59:59 p.m. EST. The deadline for submitting Entries is February 15, 2013 at 11:59:59 p.m. EST.
All questions regarding this Competition should be submitted via email to: ctm.competition@gmail.com. The deadline for submitting questions is November 30, 2012. All questions received may be combined in one document, answered, and emailed back to parties who have expressed interest by December 31, 2012.
About Kfir Luzzatto
Kfir Luzzatto was born and raised in Italy, and moved to Israel as a teenager. He acquired the love for the English language from his father, a former U.S. soldier and WWII veteran, a voracious reader and a prolific writer. Kfir has a PhD in chemical engineering and works as a patent attorney. He lives in Omer, Israel, with his full-time partner, Esther, their four children, Michal, Lilach, Tamar and Yonatan, and the dog Elvis.
Kfir has published extensively in the professional and general press over the years. For almost four years he wrote a weekly "Patents" column in Globes (Israel's financial newspaper). His non-fiction book, The World Of Patents, was published in 2002 by Globes Press. He is the author of six published novels and of several short stories, but now mostly writes full-length fiction. Kfir is an HWA (Horror Writers Association) and ITW (International Thriller Writers) member and also serves on the editorial board of The Harrow Press as Anthology Editor.
You can visit Kfir's web site and read his blog at http://www.kfirluzzatto.com. Follow him on Twitter (@KfirLuzzatto).