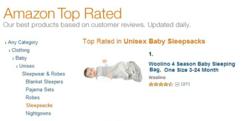 It's amazing to see parents showing their appreciation of the benefits of natural merino wool for their babies.
Cleveland, OH (PRWEB) October 08, 2012
"Being voted the best baby sleep sack in America is surreal, but fantastic news!" said Mimi Dzodzo, the founder of Woolino and creator of the 4 Season Baby Sleep Bag. "It's amazing to see parents showing their appreciation of the benefits of natural merino wool for their babies. We are extremely proud that we have achieved this status in less than a couple of years of selling on Amazon.com; it is a real milestone for our business, and we're delighted that parents recognize the quality and value offered by Woolino baby sleeping bags."
Achieving this status at Amazon.com is particularly significant because the rankings are based on customer feedback from the world's largest online retailer. Being rated as #1 in the entire Sleepsacks and Unisex Sleepwear & Robes category means that Woolino is top-rated by customers against hundreds of other baby sleepwear products, including those from all the established baby brands.
This news is the crowning accomplishment in an already very successful year for Woolino. Earlier this year, Woolino won the prestigious Mom's Choice Awards® for being Among Best In Family-Friendly Products, and was awarded the 2012 Top Choice of the Year Award by a Creative Child's Magazine.
Woolino's 4 Season Baby Sleeping Bag is crafted from finest Australian merino wool, which is allergy-safe and feels luxuriously soft next to baby's skin. This unique baby sleep bag can be worn throughout the year as merino has natural ability to regulate baby's body temperature so it keeps baby warm in winter and cool in summer. What's more remarkable, the exceptionally breathable merino in these wearable blankets provides warmth without overheating - a risk factor for SIDS. The merino wool used in the baby sleep sack is naturally fire-retardant without the use of harsh chemicals. It also comes in one universal size that fits babies and toddlers 3m - 2yrs old, so parents don't have to worry about buying a new size every few months. 100% natural, silky-soft, versatile, superbly breathable, easy care, practical and stylish - this is the best natural baby sleeping bag.
Amazon.com, Inc. (NASDAQ: AMZN) is an American multinational electronic commerce company with headquarters in Seattle, Washington, United States. It is the world's largest online retailer. The company also produces consumer electronics—notably the Amazon Kindle e-book reader and the Kindle Fire tablet computer—and is a major provider of cloud computing services.
For more information on Woolino Baby Sleepwear, visit http://www.woolino.com .