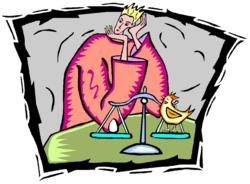 ...Or rather, Choosing Incentives for Wealthy Businesses or Middle-Class Consumers?
Detroit, MI (PRWEB) October 09, 2012
This November the American people will be making a major decision between two pair of men to serve as the President and Vice President of the United States for the next four years…led by President Barack Obama or former Governor Mitt Romney. However, when it comes to which party's approach to restoring our sluggish American economy will succeed best, the choice may actually become whether you place your trust in the 'chicken' or in the 'egg'.
On one hand, the conservative party apparently believes in incentives in the form of reduced taxes and regulations for the wealthiest amongst us…larger business owners or the "job creators" which should serve to expand larger businesses and create jobs for the middle class of workers. This has been known as the "trickle-down" effect. On the other hand, the liberal party believes in these types of incentives primarily aimed at the middle class and smaller businesses to encourage consumer demand which might be called the "bubble-up" effect.
Experts and economists generally agree that the American economy is primarily based upon materialism and consumerism. People need and want to buy things and businesses produce or supply the things people buy. Our American economy had its modern-day roots in 1955 when Victor Lebow, marketing consultant to the Eisenhower administration, released his recommendations published in the spring edition of the Journal of Retailing. In describing the real meaning of consumer demand, he wrote…" Our enormously productive economy demands that we make consumption our way of life, that we convert the buying and use of goods into rituals, that we seek our spiritual satisfactions, our ego satisfactions, in consumption…We need things consumed, burned up, worn out, replaced, and discarded at an ever increasing pace."
Reflecting upon our more recent economic history, it would appear that Mr. Lebow was indeed correct. When both consumers and producers have confidence, the economy grows and vice versa.
The conservative Republican Party's "trickle-down" approach would tend to offer confidence to larger manufacturers/producers while the liberal Democratic Party's "bubble-up" approach would tend to offer confidence to smaller businesses and buyers/consumers. Given their government incentives and greatly increased labor productivities, will businesses actually manufacture, produce and hire large enough numbers of additional employees in a climate of economic shortages of middle-class buyers lacking the confidence to spend? Will buyers actually make consumer purchases in an economic climate where they are confident in doing so as a result of their government incentives?
Clearly both questions are important, but the real question for American families this presidential election will be which comes first…confidence for the producers/manufacturers (the 'chicken') or confidence for the consumers/buyers (the 'egg')? Only November 6 will likely answer this vital question.
The National Family Justice Association is a national non-partisan nonprofit education and advocacy organization for issues that affect American children and their families. Not Authorized by Any Candidate, Candidate's Committee or Political Party. Visit: http://www.NFJA.org or contact NFJA HQ at NFJAinfo(at)aol(dot)com or the Midwest Regional Office at NFJApres(at)aol(dot)com.