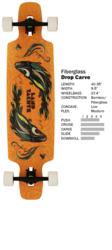 "Landyachtz is our number 1 selling longboard, thanks to value, quality and diversion of products."
Annapolis, Md 21401 (PRWEB) October 09, 2012
Landyachtz longboard decks and their longboard wheel company, Hawgs, are Pure's number 1 sellers.
Landyachtz started in the fall of 1997 when Michael Perreten and Thomas Edstrand met up at the University of Victoria. They had been friends and skated together in elementary school but had not seen each other in years. Growing up on the Northshore of Vancouver they were exposed to skating steep hills at a very young age. When they ran into each other, Mike was riding a sweet 40" fiber-glassed board he had made to get around campus. Mike had been living in Whistler and had made some boards in his spare time. Tom had recently been down in California and seen some longboards and wanted to ride one at first site. He was tempted to buy one but thought he could make one instead. Tom was one of those kids that was always drawing and really into art. Mike was very handy and good at building things. They decided to team up and started making some personal rides in Tom's basement. You wouldn't believe how much time went into some of the first boards they made.
They spent that school year learning to make skateboards. There was a lot of trial and error, a lot of prototypes and a lot of crazy ideas. That summer Mike went back to framing houses in Whistler and Tom got a job at a sign shop so he could learn how to silkscreen and work on his art. Halfway through the summer they ditched their jobs and focused entirely on building boards. They moved to Whistler because they got access to the tuning room in the basement of the Blackcomb ski club cabin. The ski club's cabin was at the top of a long hill with lots of hairpins. Again, there was a lot of learning and wacky ideas. They knew they had to produce boards that were better than the existing boards on the market so they produced countless prototypes and road them down the gnarly test hill. One of the prototypes was a lowered skateboard with the trucks mounted above the foot platform.
Around the same time, Jody Wilcock was making lowered boards under the name Highway longboards in Prince George, BC. A couple years later they would meet Jody(aka Shnitzel) and that's when the lowered skateboard revolution really began. They teamed up to produce the DH Race and Urban Assault. These boards were the first of their kind and would introduce the world to the advantages of a lowered skateboard.
Over the next 2 years the workshop moved four times into different basements and garages. At one time, Mike and Tom had their press setup in a tiny tool shed in the backyard of a house they rented. Mike actually pressed over 100 Chiefs in that shed. They also made a spray booth in their carport out of poly where Tom screened and sprayed the boards. They did what they could with what they had. Although they didn't have a high tech facility they were able to produce very innovative boards because of their creativity and their relentless testing.
When Mike and Tom finished University, they moved back to Vancouver. They rented a 350sqft mezzanine from local snowboard company, Invasion Snowboards. Landyachtz finally had a home. The factory was located on the Northshore of Vancouver where the two had grown up and where some of the best longboarding in the world can be found. This terrain was an important part in making Landyachtz. The terrain is very steep and demanding so the products that Landyachtz made had to really perform. It also made for super fun R&D sessions after work.
In 2001 Mike and Tom met Bricin Lyons(aka Striker). He was a super energetic rider with a serious need for speed, so Landyachtz decided to sponsor him. At 285lbs and riding like a human bowling ball, Bricin put Landyachtz boards to the test and proved their durability. Bricin went on to form Coastlongboarding which has put on over 30 longboarding events including the world renowned Danger Bay. Landyachtz and Coastlongboarding put a ton of time and effort into these events to help build the sport of Longboarding. With all these events, Vancouver transformed into a longboarding mecca, attracting riders from all over the world.
Along with helping organize longboarding events Landyachtz has sponsored a ton of riders over the years. By sponsoring riders and being involved in racing, Landyachtz has been able to continue to produce top of the line innovative products that perform at the highest level. In 2005, Tom won the IGSA World Cup for downhill skateboarding. The racing success continued with Frederick Lindstrom winning in 2006 and Scott'Scoot' Smith taking the title in 2008. Landyachtz used racing as a way to test and develop products that improve longboarding for every discipline; downhill, freeride, carving, cruising and commuting.
In 2005, after countless epoxy wars and debates on skiing vs. snowboarding, the guys from Invasion finally moved out and Landyachtz took over the entire 2700sqft space. It was a big step but the business and the sport were growing so it was a risk they had to take. After about a year, the 2700sqft factory was overflowing and Landyachtz needed more space. There was another warehouse across the street of similar size so they rented it for packing and shipping. The problem was getting the freshly manufactured boards across the busy street to be assembled and shipped. For about a year Landyachtz employees played frogger crossing 1st St. in North Vancouver till we finally found our current home.
In 2007, 10 years after it all started, Landyachtz moved to 1221 Glen Dr. The new factory is situated next to Strathcona Park in the heart of beautiful Vancouver. The building was in rough shape and needed a lot of work. Rather than put the stress on the environment of demolishing and building a new building, Mike and Tom decided to restore the old building. It took a lot of time and hardwork but the building is a now a 9000 sqft skateboard factory that employees over 20 skateboarders. With most of the Landyachtz staff living within skating distance it was a nice change. Commuting to work became a fun skate. Every employee at Landyachtz is passionate about skateboarding and that passion goes into every one of our products.
The goal was always to make the best boards on the market through innovative designs and a focus on durable products. That is still the Goal today.
Pure Board Shop opened its doors on May of 2005. After co-owning Evolve Board Shops in Annapolis and Bethesda Maryland from 1993 to 2003, Robby Roberts put Pure on the streets a few years later. Its ease of access and parking make it a destination shop for riders and urban street wear fans alike. With their mix of products and variety in skate, snowboard , surf and exclusive street wear and shoe brands Pure's customers extend far beyond their Annapolis location. Pure prides itself on customer service being its number one priority, with product knowledge and having the right product mix a close second. The store and the website feature an ever growing inventory from brands such as Nike SB, Nike Snowboarding, Travis Rice, Lib Tech, Adidas skateboarding, Vans, Levi Skateboarding, Diamond, HUF, LRG, Neff, RVCA and The Hundreds, as well as a large selection of Sunglasses and other accessories. The shop also prides itself on having the largest inventory of longboard equipment in the area; with brands like Landyachtz, Rayne, Caliber, Cult, RAD, Abec11 and many more. Pure puts on skateboard jams and video premieres at their local skateboard park as well as sponsors many longboard slide jams and races in the Metro Area.
Contact Pure at 410-267-7669.
Their new website will be up soon