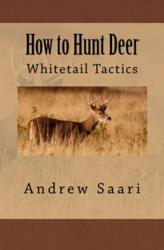 The best time of the year for bagging bucks is during the rut.
Solon Springs, WI (PRWEB) October 09, 2012
According to Saari:
#1 Scent is a huge factor when hunting. Do everything you can to avoid bringing in any foreign scents that could potentially drive the deer away. You should use human scent eliminator spray to reduce your scent as much as possible. Also, you should wear detergent-free clothing. The deer are equipped with an incredibly good sense of smell, and any scent from a human will likely drive deer away.
#2 Stay downwind of the deer. If you know the area where the deer are and the wind direction, stay to the downwind side whenever possible. This will help hide you from the whitetail's keen sense of smell. The deer will often circle around, trying to catch a whiff of whatever arouses their suspicion.
#3 The best time of the year for bagging bucks is during the rut. And, the most vulnerable phase of the rut for the bucks is the pre rut. The bucks start their search for the does, and are usually eager to breed even before the does undergo the "estrus" or ovulation period. In this period, a mature buck will frantically look for a doe that is receptive, and he is the least cautious at this time of year.
#4 At different times of the rut, bucks will respond to either aggressive grunting or rattling, as well as doe bleats. They believe that it is either two bucks fighting over a doe in heat, or a battle for dominance. This will get them to respond by coming towards the sound, and hopefully, within your sights.
#5 Use other hunters' movements to your advantage. If you hunt in an area where you know other hunters will be, find the escape routes you think the deer will use, and set up a stand there. Get there early, and stay through the day. When the other hunters are stumbling out to their stands, or going in for lunch, they'll push the deer to you.
#6 Don't be afraid to change locations. If you've been sitting in one spot for days and haven't seen deer, try switching locations. A pop up ground blind or a portable stand can make switching locations a breeze. And, if you've scouted your hunting area ahead of time, you probably know a good spot to set up.
#7 Deer are thirsty, too. Deer need water even more than food to survive. If you find their watering hole, set up a stand near the trails leading to it, and wait. They often drink in the mornings and just before dusk. This tip works especially well, if you've got the only watering hole in a large area of land.
#8 Become an expert with your weapon of choice. This may seem basic, but it's often overlooked. Practice with your rifle or bow, and become an expert at shooting it. Practice in situations that resemble actual hunting situations, as much as possible. Wear the clothes you'll be wearing for hunting, and make sure nothing gets in the way. And, if you hunt from a stand, make sure you can shoot comfortably and accurately from it.
#9 Look for parts of deer, not whole deer. When you're in the woods, you'll often see parts such as an ear, a nose, a tail twitching long before you'll see an entire deer. Look for the horizontal outline of a deer's back against the vertical lines of the trees.
#10 Sit still, and don't fidget. Besides making noise that the deer will hear, movement will give your position away to the deer, and deer will be gone in the blink of an eye. Try to blend in as much as possible with the terrain behind you, and only move when absolutely necessary."
For more information on how to hunt deer, Andrew Saari's "How to Hunt Deer: Whitetail Tactics" is an excellent resource that provides the novice and experienced hunter with tips, tricks and hunting strategies they otherwise might never have thought of. Everything from how to spot a deer in the woods to deer tracking are covered, including hunting techniques.
Deer hunting season dates vary widely by state. Be sure to consult your local regulations before hunting.
Andrew Saari has been hunting deer in Northwestern Wisconsin for over three decades. More information about his other books in the "Whitetail Tactics" series is available at http://www.whitetailtactics.net or http://www.amazon.com/author/andrewsaari
The http://www.whitetailtactics.net website also provides an array of deer hunting articles, tips, pictures and videos.