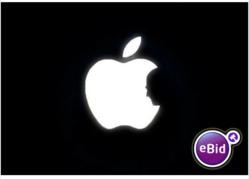 Priced at $12,300, All Proceeds Will Be Given to Charity
Miami, FL (PRWEB) October 07, 2012
On the one-year anniversary of Steve Jobs death, online auction site eBid (http://www.ebid.net) is hosting a one-of-a-kind tribute to the Apple creator - a specially customized MacBook Pro Retina, with a starting price of 9,500 Euros (appx. $12,300 USD). Three copies were created by Dutch laptop customizers Uncover (http://www.uncovermac.com) - all top-of-the-line machines (2.7GHz Intel Core i7, 16GB memory, 768GB solid state drive) and featuring a stunning profile of Jobs created by Hong Kong artist Jonathan Mak in place of the familiar glowing Apple logo on back of the case. The bottom of the laptops are etched with an inspirational quote from Jobs. The auction ends Tuesday, October 9.
The auction may be viewed here - http://uk.ebid.net/for-sale/steve-jobs-tribute-macbook-77491800.htm
All proceeds from this auction will be split between the charity Get It Done (http://getitdone.org/) and a fund set up with at SellanApp (http://sellanapp.com/), a crowdfunding site dedicated to creating iOS apps that have value for society.
The bottom of the laptop is a laser-inscribed with a quote from Steve Jobs: "When you grow up you, tend to get told that the world is the way it is and your life is just to live your life inside the world, try not to bash into the walls too much, try to have a nice family, have fun, save a little money. That's a very limited life. Life can be much broader, once you discover one simple fact, and that is that everything around you that you call life was made up by people that were no smarter than you. And you can change it, you can influence it, you can build your own things that other people can use. Once you learn that, you'll never be the same again."
Founded in 1999 in the UK, eBid now spans a total of 23 territories, covering more than 100 countries and five continents. Independent metrics have placed eBid firmly in second-place competition with eBay for person-to-person online listings in the USA, UK and dozens of other countries. Competitive features like zero insertion fees, low final cost fees (ranging from 0% to a max of 3%), a "Make An Offer" button and "Multiple Item Checkout" as well as a generous affiliate program and wide territorial coverage have all combined to propel eBid into this top bracket. Transactions on eBid may be completed using multiple, secure payment systems, either PPPay.com, Google Wallet, PayPal, or Skrill (Moneybookers).
With eBid's affiliate program, participants who add banners/links to their website, emails or Facebook pages can earn up to $104.99 for a single referral! Affiliates are rewarded for not only sign-ups to the basic eBid "Buyer" account status but also when the referral makes a free upgrade to "Seller" status and, most impressive of all, affiliates are rewarded with 50% of any upgrade fees when their referrals upgraded to "Seller+" status. eBid's "Seller+" status is a great advantage for higher volume merchants. A one-time fee of $49.49 gives the seller a lifetime of zero listing fees and zero final value fees. Merchants may also opt for a short-term subscription upgrade to zero fees ($1.99 for 7 Days / $6.99 for 30 Days / $16.99 for 90 Days).
More information on eBid's affiliate program is available here - http://forums.ebid.net/showthread.php?154814-eBid-Affiliate-Program-News
About eBid.net (http://www.ebid.net)
Founded in the UK in 1999, eBid.net is now a global company with a presence in 23 territories across the UK, Europe, USA and Canada, Africa, Asia, Australasia and South America. With a commitment to person to person online auctions, eBid.net is recognized as the "best eBay alternative" by Webuser Magazine.
# # #