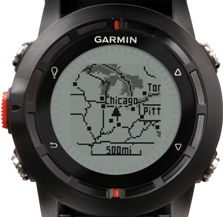 We live in the hunting mecca of the lower 48 States so there is no better terrain to test the new Garmin fenix in then right here in Montana
Bozeman, MT (PRWEB) October 07, 2012
The Garmin fenix has been named the 2012 hunting watch of the year by the Heart Rate Watch Company in Bozeman, Montana.
"We live in the hunting mecca of the lower 48 States so there is no better terrain to test the new Garmin fenix in then right here in Montana", says Rusty Squire, President of the Heart Rate Watch Company. He adds, "When you are quartering an elk and packing it out for miles knowing the shortest route can pay big dividends".
The Garmin fenix offers on screen mapping with decent detail and a TracBack feature that can take a hunter right back over the route they came in by. The watches barometric altimeter can keep you apprised of weather and altitude data, as well as a built-in compass for navigation.
"If you get an optional heart rate strap the Garmin fenix can track your heart rate and calories", says Squire, adding that, "The Garmin Tempe temperature sensor also adds real-time temperature data to the equation".
"It was close with the Suunto Ambit and as soon as they add maps to their existing firmware it will make it a tough call between the two", says Squire.
Garmin fenix has a hunting and fishing calendar built-in, along with sun and moon information so there is literally no important data that the user does not have access to. It further includes storage of up to 50 routes, 10,000 track points and 1,000 way points and a 20MB built-in memory.
If you hunt, fish or do anything in the back country then you owe it to yourself to get the most convenient and useful tools to be available for your disposal. "This thing is like the Swiss Army knife of watches", says Squire. He adds with a chuckle, "It's so cool I'm buying one for myself as soon as customers stop buying so many of them".