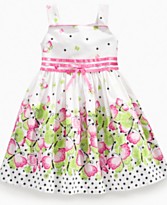 (PRWEB) October 10, 2012
New York wholesale dress warehouse, CloseoutExplosion.com, offers free fashion consulting to Nigerian boutiques. Donny Lowy, the CEO of CloseoutExplosion.com, is offering his fashion consulting services at no charge to Nigerian wholesale buyers. As a NY export wholesale company with many dress buyers from Nigeria, he is sharing his experience, strategies, tips, and ideas with wholesale and retail businesses from Nigeria.
"I have many repeat Nigerian wholesale customers who shop at my closeout warehouse, or place orders online through my overstock and liquidation website. As a result of having worked with many wholesale buyers from Nigeria, I have gained a great deal of experience which I am happy to share with my current and future Nigerian customers. I can make recommendations based on their clientele, and offer products such as women suits by Tahari, designer shoes by BCBG, social dresses by Jones New York, and authentic brand name handbags by Guess," said Donny Lowy, who has published many articles related to the Nigerian fashion market, including having reviewed the Lagos Fashion Week.
Donny is familiar with Nigerian brand preferences, style requirements, price points, and freight forwarders that will ship door to door on a freight collect basis, such as Express Air Freight, Impex,
CloseoutExplosion.com also exports brand name overstock apparel, wholesale footwear, and closeout fashion accessories to retailers in many African countries including South Africa, Botswana, Zimbabwe, Ghana, Zambia, Kenya, and other countries. Africa is enjoying an economic resurgence accompanied by an expanding middle class, which is fueling a strong demand for American designer labels such as Kenneth Cole, Polo Ralph Lauren, Steve Madden, Nine West, and other popular names.
In addition to the free fashion advice which Donny Lowy offers, Closeout Explosion reviews fashion business opportunities available in Nigeria as well as in other countries in Africa. There are also opportunities for Nigerians, and Africans, living abroad, to purchase closeout merchandise from his warehouse and then sell it to resellers in the wholesale African market.
His warehouse offers below wholesale deals on popular designer merchandise which is primarily department store overstock, high end store returns, liquidations, and shelf pulls. There are no minimums in his warehouse so a retailer can start out by testing out her market and determining which items sell best before placing a larger order. At the same time, volume discounts are offered so that a retailer can maximize his profits once he knows which items he can make money with. Another advantage is that it is primarily a closeout business, so the actual merchandise changes frequently, giving resellers a wide selection from which they can stock their clothing and shoe stores with.
The warehouse is located in Greenpoint, Brooklyn, which is a short subway or taxi ride from the New York Garment Center, Times Square, JFK Airport, Laguardia Airport, and relatively close to New Jersey as well. Open every day of the week except for Sunday, wholesale shoppers are welcome to visit and meet Donny Lowy in person, who is glad to offer guidance to beginners, and more advanced consulting to experienced resellers. He supplies merchandise to boutiques, flea market vendors, eBay sellers, wholesalers, and importers.