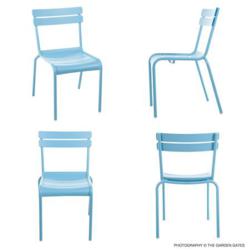 The Luxembourg [collection is] the all-occasion group for outdoor living
Metairie, LA (PRWEB) October 11, 2012
The Luxembourg collection from Fermob outdoor lounge is famous. As permanent resident in the Jardin du Luxembourg in Paris, the Luxembourg collection of outdoor furniture and outdoor lounge is recognized again and again for its exceptional design. This time, Garden Design magazine's editors mentioned it in April 2011 under "Best Outdoor Chairs." It's no wonder, really - see for yourself.
Clean lines, sturdy build and modern appeal are just some of the ways to describe the Luxembourg chair from Fermob. One might also call this chair colorful and chic as well. It comes in 23 colors from Fermob's designer palette for turning your own garden into a Parisian getaway or for creating something just as beautiful and wondrous. From a classic French blue to striking lemon, there are colors to mix and match for a unique combination every time.
The Luxembourg collection by Fermob outdoor lounge is designed and manufactured in France, where the legendary company has been operating for many years. Created by Frederic Sofia, the Luxembourg chair and counterpart benches, tables and childrens' collection are the all occasion group for outdoor living. It's easy to make an outdoor dining area, sitting space or multi-functional outdoor room to enjoy season after season and year after year. Everything in the Luxembourg collection is made from light, lacquered aluminum and is easy to clean and care for.
The Garden Gates is a leader is Fermob bistro furniture. From technical questions to aesthetic issues, the architects and designers at The Garden Gates are at your service to help with anything and everything Fermob. For personal assistance, please call 1-877-780-6699 or visit http://www.thegardengates.com to see what's new and get some ideas.
About The Garden Gates:
Founded by Jacqueline Elizabeth Kendall-Harris and Chad Harris in 1999. Jacqueline plays an instrumental role in product development, interior design and the developing the core principles of The Garden Gates lifestyle. Chad plays an instrumental role in the creativity of the brand, marketing and technology of the business.
Source: http://www.gardendesign.com/products/sitting-pretty (April 12, 2011)