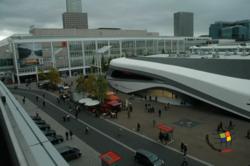 For its seventh year at the Frankfurt Book Fair, MapsofWorld.com will showcase mobile apps and custom mapping for businesses.
San Jose, CA (PRWEB) October 08, 2012
The 2012 Frankfurt Book Fair will be all about making magic with maps, as MapsofWorld.com prepares to showcase an array of new and exciting services geared specially toward map publishers. The company's exhibits will include mobile apps, custom mapping services, and the online map store, along with the map portal, which shows businesses, students, and everyday users how maps can provide a variety of solutions for real-world problems.
Atlas publishers can now look to develop scaled-down or specialized versions of their atlases on tablet devices. MapsofWorld.com has thousands of thematic maps available as study tools with engaging content on educational topics. The website offers GIS-generated maps and interactive applications. Learning geography becomes fun with bestselling apps World Atlas Pro and World Quiz.
For businesses selling mapping or educational solutions, the online map store is a great place to increase brand visibility. As MapsofWorld.com draws more than 5 million visitors every month, publishers will easily reach a diverse and huge audience. MapsofWorld's online store has been a great repository for map lovers – the store features maps from the likes of National Geographic, Rand McNally, and Cartographia. The portals maps have been featured in many atlases, golf atlases, and travel guides.
MapsofWorld will be available at: Hall 3.1, Stand K 681, Frankfurt Book Fair, Frankfurt, Germany.
About the company:
MapsofWorld.com is a multilingual portal offering high-quality maps and information across geographies and platforms. With special focus on educational content, the portal has thematic as well as interactive maps on all major platforms: Web, iPhone, iPad, iPod, and Android. World Atlas and World Quiz are two highly successful educational apps. Other services offered are Custom Mapping, Content Digitization, and the Online Map Store.
For more information, please contact:
MapXL Inc.
10 S, Third Street, Suite 310,
San Jose, CA 95113
social(at)mapsofworld(dot)in