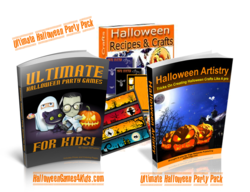 Much like the outdated school system - creativity and innovation have gone to the wayside in the Halloween Games market. This site promises to change that.
Vancouver, Canada (PRWEB) October 09, 2012
Halloween Games Site Challenges Old School Halloween Games and gets the Party Started for 2012. HalloweenGames4Kids.com is pulling out all the stops this year on the traditional Halloween games.
Defying the rules and boldly stating that the same old same old is no longer exciting for kids, this site is instead challenging parents and teachers to think outside the box, introduce new games, get kids involved new activities and encouraging kids to use their own imaginations with their games.
As a leader in downloadable Halloween games instructions for kids (with the help of parents and teachers) since 2006, this site has not only created unique Survivor and Amazing Race inspired games – exclusive to it's Ultimate Halloween Party Games for kids ebook, but they've also added printable game prizes, halloween party invitations, Halloween bookmarks or namecards, Halloween Crafts and all sorts of Halloween recipes to sweeten the pot.
Cijaye DePradine of HalloweenGames4Kids.com says "parents, teachers and children want variety now, they tell me all the time through emails, Facebook, twitter etc. They too are tired of searching and finding the same games on every website."
Much like the outdated school system – creativity and innovation has gone to the wayside in the Halloween Games market. Yes, with the introduction of smart phone and tablet apps kids get REALLY exciting games to play on their mobile devices, but what do they get at school or at community parties?
Bobbing for apples is outdated and can be very messy. Plus with all the food allergies children now have, this may not be logical to do at all. Pumpkin carving contests are simply dangerous for school aged children. Painting pumpkins is fun but only lasts the day. And the list goes on.
As the author of "The Ultimate Halloween Party Games For Kids eBook" Cijaye DePradine has decided to take an "out with the old, in with the new" approach. She's provided multiple variations of old games and has also added new, exciting reality television inspired games.
Plus, she's invented a few games of her own with the help of her two children. She went right to the source; gathered their feedback, got their friends involved and designed Halloween Games that were made for and BY children.
As a Canadian, self-published author in this field (with a dream of someday getting her book on the shelves of major book stores), Cijaye is proud of her work and is excited to be able to be a source for visitors every Halloween. To learn more visit http://www.HalloweenGames4Kids.com