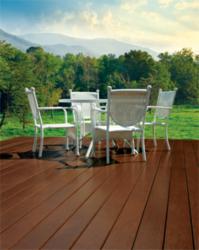 Unlike virtually every other option available, NyloDeck contains NO wood or PVC and it isn't a cap stock product that can be easily compromised. It is impervious to moisture, rotting, termites, mold and mildew, with excellent strength and performance.
Covington, GA (PRWEB) October 11, 2012
Building materials manufacturer Nyloboard, LLC, whose patented process uses recycled carpet fiber and VOC-free resins to create exceptionally strong, durable and eco-friendly products, today introduced its next-generation NyloDeck®, a superior decking and dock material containing no wood or PVC. Contractors, remodelers and builders will preview NyloDeck at Deck Expo 2012, a national deck and railing industry event this week in Baltimore, MD.
The "non-composite" composite
"The new NyloDeck is like no other decking material available, and not just because it looks naturally beautiful," said Doug Morse, president and COO of NyloBoard. "We call it the 'non-composite' composite deck board, because unlike virtually every other option available, NyloDeck contains NO wood or PVC and it isn't a cap stock product that can be easily compromised. It is impervious to moisture, rotting, termites, mold and mildew and possesses excellent strength, durability and performance qualities."
Eco-friendly NyloDeck is made using recycled carpet fibers and VOC-free bonding resins, along with UV protection via a patented manufacturing process. A 15' x 30' NyloDeck actually contains enough recycled fiber to carpet an average size home. The result is an exceptionally strong, yet lightweight, color-through board available in a range of popular colors.
"NyloDeck was initially rolled out as a concept in 2010, and was named a 2010 Top Ten Green Building Product from GreenSpec Directory and Environmental Building News. It was extremely well received as the decking material for Professional Builder's Show Village in early 2012," said Craig Jacks, vice president, Sales and Marketing at NyloBoard. "Since then, the company has conducted rigorous testing and taken advantage of the latest manufacturing advancements to ensure a long-lasting, high performing product that is completely unique, yet priced competitively with other premium decking materials," noted Jacks.
With a comprehensive 25-year warranty, NyloDeck has met the high standard of ICC AC 174 compliance and has received its CCRR 0183 with both a 16/100 and 24/100 span rating. In addition, NyloDeck has some of the best thermal expansion and contraction rates of all decking materials, which means it performs extremely well in temperature fluctuations. NyloBoard products have also received the highest possible ratings in mold resistance (ASTM D 3274), fungal resistance (ASTM D1413), and termite resistance (AWPA E1—97), as verified by these standard testing methods.
A proprietary embossing process creates natural looking, unique grains on every board that are stain resistant and simple to clean and maintain. NyloDeck does not splinter, warp, peel or pit. It does not require pre-drilling and industry leading fasteners can be used for easy installation. Strength and rigidity enable board lengths up to 24' that can span joists up to 24" on center.
Proven reliability and performance
"As a custom builder for buyers who want the latest and the best features for their homes, I'm always looking for new, yet reliable and eco-friendly products that are on the leading edge in composition and technology, said Dan Mitchell, president, Eagle CDI, a builder of large-scale top-quality custom homes in Tennessee. "I found NyloDeck to be the perfect combination of performance, strength and great looks. My team likes working with NyloDeck because it's lightweight, yet strong and very easy to install, and NyloBoard provides hands-on, personal customer service from start to finish."
The benefits of NyloBoard's patented manufacturing process have been proven for almost a decade in marine, trucking, RV and other building applications, where its NyloSheet® panel product has demonstrated performance in harsh environments. NyloSheet is valued for its combination of outstanding versatility, strength, durability and moisture resistance in an eco-friendly material. NyloBoard created its NyloDeck line based on the proven properties of NyloSheet. The result is an eco-friendly, attractive composite decking and dock product with a material composition that has established performance.
Currently, NyloDeck is available in five popular colors: Saddle Rose, Harbor Gray, Newport White, Desert Spice and Mountain Mocha. Matching fascia board is available and NyloDeck can be combined with any number of railing options to create a truly unique deck design.
"Contractors like NyloDeck for its ease in installation and NyloDeck owners will enjoy a great-looking, low-maintenance outdoor living space for years to come," said Jacks.
As NyloDeck's distribution/dealer network is being built, please direct inquiries to the sales team. Call at 877-NYLO-909 (877-695-6909) or 770-385-6168 or visit http://www.NyloBoard.com for more information.
About NyloBoard
NyloBoard, LLC is a manufacturer of superior building products whose patented process uses recycled carpet fiber to create exceptionally strong, durable and eco-friendly products, containing no wood or PVC. NyloBoard products help stop the waste stream of carpet fiber that currently contributes billions of pounds of non-reclaimable waste to landfills each year by using it to create products including NyloSheet® and NyloDeck®. Nyloboard also takes pride in manufacturing eco-friendly building products that are impervious to moisture, rot, termites, mold and mildew. NyloBoard's manufacturing facility is located in Covington, Georgia, just outside of Atlanta.