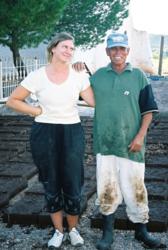 AiP allows a unique opportunity to learn not only about a place and its people, but to also have a part in preserving it. … I was thrilled to find AiP.
Boulder, CO (PRWEB) October 10, 2012
Adventures in Preservation (AiP) announces a new loyalty program to reward volunteers who are passionate about historic preservation. Volunteers are the key to AiP's success in saving historic buildings, giving architectural heritage a major role in revitalizing project communities. Now volunteers who join two or more AiP volunteer vacations qualify for reward discounts of up to 20 percent.
AiP's mission is to save the world's architectural heritage, and their new loyalty program is one way to show appreciation to the organization's most dedicated volunteers. "We want to recognize the volunteers who are committed to joining us in our mission, and encourage people to come back and volunteer a second, third or even fifth or sixth time," says Judith Broeker, AiP's program director.
Those who join AiP for one volunteer vacation receive a 10% discount on their second adventure in preservation. After volunteering on two AiP projects, they become a lifetime member of the Passionate Preservationists Program and receive a 20% discount on all future trips.
Debra Adamcik, an artist, preservation specialist and veteran of three AiP projects, explains why she's become a Passionate Preservationist:
"I love connecting with people and trying to understand the "why" behind their lives and culture. AiP allows a unique opportunity to learn not only about a place and its people, but to also have a part in preserving it and working alongside those to whom it matters most. I have my own history of traveling – studying abroad, traveling independently and with tour companies, and volunteering with several organizations before discovering AiP. I was thrilled to find AiP."
AiP offers a range of hands-on volunteer vacations each year, giving preservation enthusiasts a choice of varied projects that provide experience in building preservation techniques. The combination of hands-on involvement in saving historic buildings and the opportunity to explore and become immersed in the culture bring volunteers back for more.
For additional information on projects powered by passionate preservationists, contact Judith Broeker or visit adventuresinpreservation.org.
Adventures in Preservation is a non-profit organization connecting people and preservation through enriching experiential programs. AiP's one- and two-week hands-on volunteer vacations give travelers the opportunity to truly experience their destination and learn hands-on skills while saving valuable historic buildings vital to economic and environmental sustainability of the project community. Learn more at http://www.adventuresinpreservation.org.
Contact:
Judith Broeker
Adventures in Preservation
303.444.0128
http://www.adventuresinpreservation.org