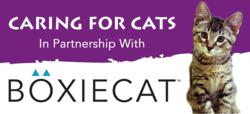 Among the event sponsors is Boxiecat, who works with Caring For Cats in an ongoing partnership. Boxiecat will be donating home delivery litter shipments to the auction, as well as litter discounts for attendees.
Santa Monica, CA (PRWEB) October 09, 2012
Caring for Cats, Inc. is holding their 6th annual silent auction dinner event on Friday, October 19th. Attendees of the event will be served a wonderful dinner, engage in a program provided by the shelter staff, and enjoy the company of likeminded people in the community with an interest in supporting the well being of cats. The auction portion of the evening will feature both silent and live auction items, including jewelry, art, wine tasting events, group dinner events, specialty theme baskets, and custom-made cat furniture. Additionally, many fun activities and options will be available during the auction: attendees can purchase henna tattoo art, animal avatars of their pets, Caring for Cats 2013 calendars, hand-made cat beds, and specialty cat toys.
The event will take place at at Jimmy's Conference Center in Vadnais Heights, MN. Event tickets to can be purchased on the Caring for Cats, Inc. website, http://www.caring-for-cats.org/. Tickets are $35 in advance and $40 at the door. Deadline for RSVP for the event is October 15th.
Among the event sponsors is the Boxiecat cat litter delivery subscription service, who works with Caring For Cats in an ongoing partnership. Boxiecat will be donating home delivery litter shipments to the auction, as well as litter discounts for the attendees. The Boxiecat/Caring for Cats partnership is an opportunity for two businesses with a focus on the health and well-being of cats and kittens to work together to raise funds for rescued felines.
About Caring for Cats, Inc.
Caring for Cats, Inc. is an all-volunteer, no-kill shelter and foster network for cats and kittens. This non-profit organization provides a home-like "catmosphere" for 35-40 cats within the shelter and 20-30 cats and kittens living in foster homes throughout the year. Because of the all-volunteer workforce at the shelter, 100% of donations to this organization go directly to the health and well-being of the animals in their care.
Over 90% of Caring for Cats shelter cats and kittens continue to find homes on an annual basis. In 2011, Caring for Cats took in 121 cats and kittens and found loving homes for 128 of their feline friends, including some who had been with the shelter for one or more years!
Caring for Cats, Inc. is organized for charitable and educational purposes to help cats, and operates within the meaning of section 501(c)(3) of the Internal Revenue Code of 1986 as amended.
About Boxiecat
The Boxiecat subscription cat litter service offers home cat litter delivery through Boxiecat.com. Boxiecat brand litter is shipped directly to subscribers with free home delivery. Subscribers save time, eliminate round trips to the store, and put an end to lifting and lugging heavy containers. The service is pay-as-you-go, and features personalized shipment timing.
Boxiecat manufactures its own brand of veterinarian recommended, all natural, premium clumping clay litter. Hard clumps form on the top rather than soaking to the bottom of the box, making litter care easy. Boxiecat litter stays clean even after weeks of scooping. It is unscented and completely eliminates ammonia odors without using fragrance as a masking agent. An over 99.9% dust-free cat litter, it is hypo-allergenic and long lasting.
Boxiecat is recipient of the Cat Fancy 2012 Editors' Choice Award, and has been recommended by The Washington Post, About.com, animal shelters, and veterinarians across the U.S., and has been featured in USA Today, Cornell University College of Veterinary Medicine's Cat Watch Newsletter, The San Francisco Chronicle, The Houston Chronicle, and more.
For more information about the Boxiecat service and Boxiecat brand premium litter, or to subscribe, visit boxiecat on the web at http://www.boxiecat.com. Customer Care can be reached at (877) 817-0253.